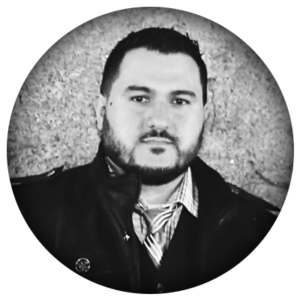 Hello everyone! This week, I interview a Philadelphia local, G.A. Finocchiaro, author of The Knightmares and soon-to-be-released Grace Falls.
G.A. Finocchiaro was born and raised in South Jersey where the cows are more prevalent than humans. Currently residing in the Philadelphia suburbs, he leads a double life as a semi-mild-mannered white-collared worker by day, while moonlighting as an author till the sleepy hours of the night. He has caught up on all streaming television and maintains a playboy's lifestyle by collecting books and licensed artwork.
In The Knightmares, Mike Graves and his pals love burgers, banter, and comic books. They don't have a care in the world until an evil warlord from another dimension threatens to tear those bonds of friendship apart. Now it's up to Mike and his best pals to stop it. As if college wasn't tough enough. The Knightmares is a spooky comedy filled with heart, big laughs, and genuine scares. Plunge into a world of ghosts, pirate treasure, monsters, alien gods, alchemy, and exorcisms with a motley crew of unlikely heroes.
Mr. Finocchiaro's newest work, Grace Falls, is the story of a town in Pennsylvania, which looks and feels like every other small isolated town across America. There are yearly holiday events, family-owned businesses, and gossip that never dies—like the demons of its past. This collection of stories set in the eighties is filled with nostalgia and the petrifying fear of the unknown. The novella "Mum," starts the collection off with a bang, as a mysterious killer stalks the town's women and teenage girls. Misfits Sid, Reed, and Danny are caught up in the slayings, and distracted by the new girl in town, Chrissy; a beautiful California transplant with a mysterious past. As the town's secrets are revealed, the following stories unravel a deepening plot, introducing us to other residents, and draw out the twisted and dangerous creatures that have invaded Grace Falls. 
For fans of Lovecraft, Stand by Me, and Stranger Things, this pulse-pounding collection will keep readers turning pages into the night. Visit Grace Falls… if you dare.

Now, on to the interview!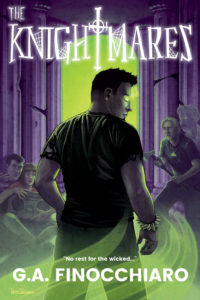 1. The Knightmares is the first installment in an anthology series called Scales. What inspired you to write an anthology focusing on the battle of good and evil? I have always been inspired by epic ideas, but have hated certain tropes in modern storytelling that build up this supreme confrontation only to have it ended with a single action. Growing up, I had a great history teacher, and I remember our class going over the events that led to the first and second World Wars, and they were often a series of pins falling that led to chaos—and a series of battles won that led to order. Those are the stories I want to tell. A saga of self contained stories that link together to tell a larger tale about good and evil, and the gray areas in between. 
2. What key challenges did you face when writing The Knightmares? Well, for one I started writing The Knightmares close to 15 years before it was actually published. The first draft was barely more than a script, and my good buddy Bob and I planned to make it a comic book. After being rejected by a few well known members of the comic book community, I shelved the project for years, and returned to it in 2012 when I wrote a second full draft. At that point it clocked in at well over 200 thousand words and I began to try and find avenues to publish. In the end, I was asked to cut 70 thousand words, and stripped the novel of various subplots, which I plan to reuse the next time I revisit those characters.

3. How do you approach anthology writing? Are there characters you take from book to book or is each story centralized? There is a central story, which will be The Knightmares novels. However, every novel outside of that central story will involve characters, items, and places that will appear within the main storyline. My approach has always been preparation—I have a mind map and a huge outline for a rough history of this world to use as a guide. Half the fun is seeing where I can make connections, and where I can leave hints to the larger story being told.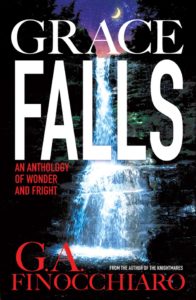 4. You have a soon-to-be-published project, which I understand is connected to your Scales anthology. Tell us more about it!  The book is called Grace Falls, and it takes place in a small fictional Pennsylvania town of the same name, known for its three lovely waterfalls. It's the kind of small town that is stuck in a time warp—isolated and somewhat naive to the outside world. This town hides a very big secret, and becomes the fulcrum for the entire Scales anthology series. Also, Grace Falls itself is a book of short stories that all bleed from one tale to the next. 
The first story takes place in the summer of 1986, when three best friends; Danny, Reed, and Sid, meet the pretty new girl in town, Chrissy, and become twisted up in a series of brutal serial killings. The next few stories revolve around a girl who adventures into the woods at night to investigate a flashing blue light, and a dog named Pajamas who goes above and beyond to protect his human family. Next I tell the tale of lowly Jonah, and his awful birthday attempting to survive the horrors of white-collar America. The following story revolves around the larger plot, as a hair metal, slacker, wannabe named Dylan attempts to win the hand of his high school crush by completing a dare to scare his elderly, but vicious, math teacher, Mr. Hallows. And lastly, a yarn about a crotchety old man in a game of wits with a seven year old girl—each of which may not be what they appear to be. 
Grace Falls will be published by The Writing Bloc sometime in February or early March. 
5. How long, on average, does it take you to write a book? What does the writing process look like for you? It all depends. Most of the work I am doing now are bits and pieces of projects I started a long time ago. This, I believe, takes longer than writing new material. 
On average, I'd say I can write a fully ready beta draft in about a year if motivated, while working on it several nights a week, and most weekends. I also take time off work around holidays just to dedicate to writing from 8 AM until 8 PM. 
My process is often chaotic, but getting more refined as I write more and more. I tend to do my best work in the mornings, often spending time to type out a loose outline of what I want to write, followed by an official first draft, then two to three edits to hone it into something (somewhat) finished. 
6. Do you have a writing quirk or ritual? None yet, other than "Princess and the Pea" level comforts and complete quiet. Any little thing will throw me out of my "trance" that brings forth my best writing. 
7. What early experience taught you writing had power? In the fourth grade, we were given a creative writing assignment to write a one-page story. I arrived the next day with a five-page epic that included humor, suspense, and lots of cheesy action. Later I went to college for Animation, and I was the guy who was assigned to animate five seconds of fire by the next class, and I'd arrive with the story of a polar bear getting mad at his igloo-roommate penguin, then grabs his handy flamethrower that puts them both out of house and home. 
I think telling stories has always been a part of who I am. 
8. If you could tell your younger writing self anything, what would it be? Write. Keep writing. Don't let anyone tell you that you're not good enough without coming back stronger. I let too many people and too many obstacles stand between me and my ambitions. Also, lay off the peanut butter, bro. 
9. What's your favorite and least favorite part of the publishing journey? My favorite has been the awesome people who have helped me; mostly fellow authors. I'm not very vocal on social media, but I love the community that some of them have taken the time to build and cultivate, and I think it's really awesome. 
Also, there's nothing better than talking to someone who has enjoyed your book, and connected with them on this world you created inside your head. 
My least favorite is all the effort one puts into writing only to struggle to find readership. It's disheartening, but I've found that so long as I write because I enjoy telling stories, then that's all I need to feel good about what I've accomplished. 
10. What other project(s) do you have in the works? Right now I'm working on something that I've had in my head since I was 17 years old. What once started as a deeply personal story about growing up, unrequited love, and the darkness we all have inside us, has grown into something much more personal than I could ever imagine. Right now it's tentatively called The Raptor and The Omega (formerly Vexed), about a man who lost the love of his life. As we come to understand the circumstances around their relationship, we find that his life is not what it seems. Thirteen mythological gods, formerly fallen angels, hunt him for unknown reasons, and all of it has to do with the woman he lost five years earlier. 
It's a cross between The Crow, 13 Reasons Why, The Prophecy, and Clash of the Titans. It's an odd mix, but I hope it will surprise some people as it is a departure from what I've written so far.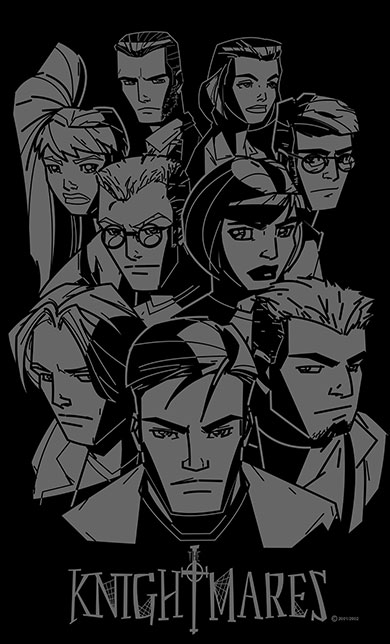 Thank you for being willing to "sit down" for an interview, G.A.! I appreciate your time and the wonderful answers you've provided. 
If you'd like to see more of G.A. Finocchiaro's work, you can find The Knightmares on Amazon, Barnes & Noble, or Indiebound. Be sure to follow him on Goodreads, and add Grace Falls to your list when it's available! You can also follow him on Twitter and Facebook.