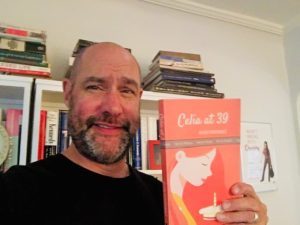 Jason Pomerance, author of Women Like Us, Falconer, and Celia at 39, was kind enough to sit down for an interview during the busy holiday season. Before we get to his fascinating answers, let's get to know Jason more.
Jason was born in New York City, raised in Westchester County, and graduated from Middlebury College. His first novel, Women Like Us, was published by the Quill Imprint of Inkshares in 2016, and his four-part novella, Falconer, debuted the same year on Nikki Finke's Hollywooddementia. His short stories have appeared in Writing Bloc anthologies Escape! and Deception. Writing Bloc is also the publisher of Celia At 39. He lives in Los Angeles with his partner and their animals and has written film and television projects for numerous studios and production companies, including Warner Brothers, Columbia Pictures, Fremantle Media, and Gold Circle Films.
His newest work, Celia at 39, tells the story of Celia Bernhart, a woman on the cusp of 39 who thinks she has her whole life planned out. She has a successful career selling pharmaceuticals. She's about to marry her longtime fiance, a doctor. Oh, sure, her mother and her two sisters drive her nuts, but that's normal, right? Then a package unexpectedly shows up at her door––the address is correct, but it was mailed nearly forty years earlier, to another woman, whose whereabouts are now a mystery. Inside is a curious old cookbook, along with a sealed note from a daughter to her mother. Celia decides to deliver the package to its rightful recipient. Instead, she finds the woman's grandson, Dante Zebulon, the pitmaster of a small barbecue joint nestled in the Appalachians, a man who literally plays with fire, and who juggles cooking classic Southern barbecue with raising a young daughter alone. When the note reveals a long-kept family secret––and when sparks fly between Celia and Dante––it's not just Celia's life that gets turned upside down. Soon the future for all becomes a question mark.
1. What inspired Celia at 39?  It's kind of an interesting story, actually. So, a few years back we were visiting my stepmom. She has a house by the ocean in Amagansett, NY, which is out on the tip of Long Island. Every summer the local library has a book sale, and while perusing the stacks, I picked up an old copy of the Gourmet Cookbook, which I remember always being on my Mom's shelf, but somehow it had disappeared. When we got back to the house, I was leafing through the book, and there were all these interesting notations in the margins about the recipes––what worked and what didn't and things like that. But the bigger thing was there was an envelope tucked into the book, and inside was a note from a daughter to her mother, and it was at least 20 years old. I sort of obsessed about the note for a while and wondered about these people. And sometime later I read about a package that was mailed and got lost and then delivered forty years later! So, I kind of put the two things together and they became this book.

2. What was the hardest scene to write? I think it's one of the early scenes between Celia and Dante––no spoilers, but I had to be really careful to make this scene feel real, but also not cross boundaries where it might also put people off.
3. If you're speaking to a potential reader, what is one thing you want them to know about this book? That it's a fun read. But, hopefully, also that it makes a reader think about her or his life a little bit. Because it's essentially a story about growth and change, and how to face those issues head-on.
4. What early experience taught you writing had power?  Such an interesting question. I can think of a couple of books and authors that changed my life. First, Peter Benchley's Jaws. I was very young when I read this (and hadn't even seen the movie yet) but it put a fear of the ocean in me that's still there to this day (and I surf!). And also William Peter Blatty's The Exorcist, also read when very young, and I can still recall the nightmares it produced. But also how writing can produce feelings of joy––for that I'd have to say it was reading Charles Dickens' Great Expectations, which I still go back to again and again just to be awed by the power of the language. And, finally, this is something I've mentioned elsewhere but all of Anne Tyler's novels, which are generally about ordinary life, and ordinary people, but somehow she finds a way to elevate all and make them transcendent and astonishing. I re-read her books constantly.
5. What do you think is most difficult about your writing process?  Finishing. I hate to let a manuscript go, because I'm always finding things I'd like to change or write better.  Pretty much it has to be ripped from my hands or I'd keep tinkering forever.
6. Which character(s) do you hope resonate with readers?  Well, I hope they all do, but most of all, I hope that Celia does, and that readers want to follow her journey and see where it will all end up. I also hope the family dynamic resonates though. Because this is also a story about a woman and her sisters and their mother, and so I hope people will see some of themselves in these relationships.
7. Are there particular themes you enjoy exploring?  It's funny because somebody recently pointed out something I hadn't noticed before––a lot of my stories seem to end with people in motion––getting in a car or driving off somewhere. So I guess movement would be a theme. But I'm always trying to write about how a character moves from point A to point B, so I guess that makes sense.
8. If you could tell your younger writing self anything, what would it be? Chill out! I used to get crazy about all sorts of things I have no control over, but I've gotten a lot better about just letting things unfold the way they are going to unfold.
9. What other project(s) do you have in the works?  There's a movie project that's been in development forever. It's an adaption of a novel, The Widows Adventures, by the hugely talented Charles Dickinson. I've had a thing for this book since I read page one many years ago, and the project has been sort of a heart-breaker because it's come close to being made a few times, with different casts and directors. One day, though, I'm hoping….!I have the start of a new novel but it's very early on, although it's something I've been kicking around for a long time, which is part of the process for me, just letting it percolate in my head for a time. So once Celia is launched and out in the world, I'll probably go back to it.
10. The Writing Bloc is a community and support group for indie-authors as well as an indie-publisher, what has it been like being their first published work outside of an anthology? It's a huge honor, and I am very humbled by the fact that they wanted to publish it. This is an amazing group of authors, and the whole process was truly a joy.  Special thanks, of course, to Michael Haase for starting the whole thing, but also to the editing skills of Becca Spence Dobias, Cari Dubiel, and Kendra Namednil. They all contributed to making it a better book.

Thank you, Jason, for being willing to "sit down" for an interview! I appreciate your time and the wonderful answers you've provided.
If you're interested in Jason's work, you can find Celia at 39 on Amazon (paperback available soon). Be sure to add Celia at 39 to your Goodreads TBR! You can follow Jason on Twitter, Facebook, and Instagram.