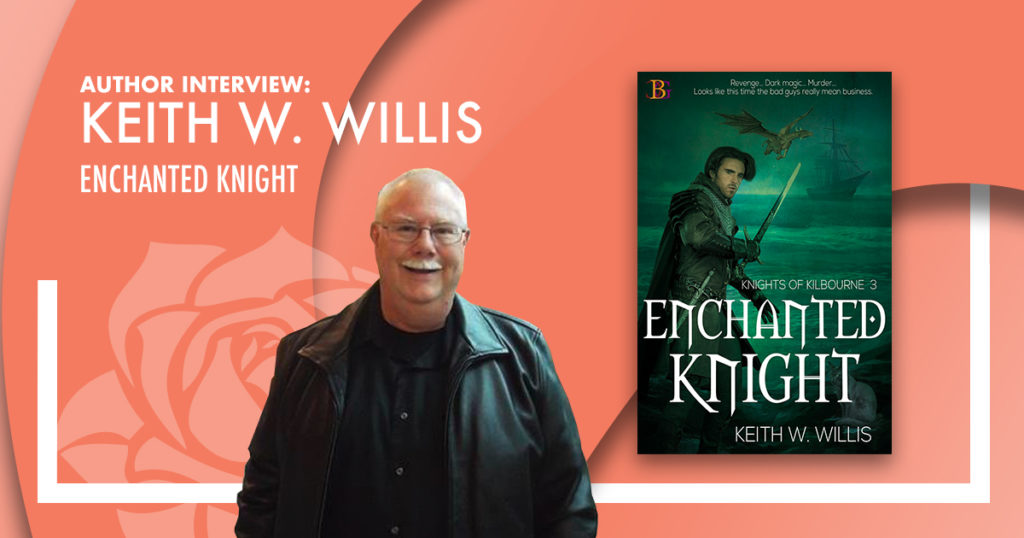 I interviewed Keith W. Willis, author of the Knights of Kilbourne series. The Knights of Kilbourne series provides swashbuckling fantasy/romance, featuring dashing knights, indomitable damsels, and a snarky dragon with a most inconvenient case of hiccups—in homage to the great Saturday movie matinees of Douglas Fairbanks and Errol Flynn.
Keith W. Willis graduated with a degree in English Lit from Berry College, which has the distinction of being the world's largest college campus. He now lives in the scenic Hudson Valley/Adirondack region of NY with his wife Patty. Keith is certain those rumbling noises along the Valley, long attributed to Henry Hudson's crew, are really just the dragons grumbling. Keith and Patty have one grown son, Matt, who actually thinks it's pretty cool that Dad writes books.
Keith's interests include reading classic fantasy, sci-fi, and mysteries; camping and canoeing; and cutthroat games of Scrabble. He began writing seriously in 2008, when the voices in his head got too annoying to ignore. When he's not making up stories, he manages a group of database content editors at a global information technology firm. TRAITOR KNIGHT (Champagne Books) is his first published novel, and has won awards for both fantasy and romance. The second book in the Knights of Kilbourne series, DESPERATE KNIGHT, was released in August 2017. SFF World calls DESPERATE KNIGHT "…a swashbuckling, drama, and punch-(or slap-) filled romp; it's a tangled web of politics, motives and emotions, all held together with a wonderful dose of heroics, romance, fun and general chaos—and a dragon, of course."
His latest novel is the third book in the Knights of Kilbourne series, ENCHANTED KNIGHT, released April 2020.
1. Enchanted Knight is the third book in your Knights of Kilbourne series, is this the last book in your series? If so, what were some challenges to wrapping it up? If it isn't, what are your plans for the next installment?
Enchanted Knight will definitely not be the last book in the series. I've already started the next tale, tentatively titled The Knight Job. This one will be a fantasy heist caper, with Morgan and Marissa tasked to retrieve (read "steal") a valuable, and very dangerous, magical artifact from the mage who stole it in the first place. I know how it begins, and I actually devised the ending recently while raking my yard. Now I just have to come up with roughly 99,000 words of "middle" to get from point A to point B. And this is really different for me, because I'm always a pantser, so knowing how a story is supposed to end is a bit daunting. But, Morgan and Marissa, and their friends (and enemies), always manage to tell me a good rollicking tale, so I'm sure we'll manage on this one as well.
2. The Knights of Kilbourne is a light-hearted, swashbuckling fantasy series, what inspired you to write it?
Like most stories do, Traitor Knight began with a "What if?". In this case, it was, what if the old knight-vs-dragon trope, so beloved of fantasy through the ages, was turned on its ear a bit? What if the heroic knight only got out of the first chapter alive because the dragon came down with a case of hiccups. And that was how it started. I really had no idea who my characters were, why they were even here, or what any of them wanted. But I liked the concept, and went on to play with the trope a bit more. What if the damsel-in-distress, instead of swooning and murmuring 'my hero', actually loathed her deliverer because everyone thinks he's a traitor to the kingdom she loves? What if the hero has to maintain the pretense of being a turncoat, at the expense of his attraction to this girl?
That's how it all started. And I had to let the characters tell me the story from there, because, since I don't plot anything in advance, I had absolutely no clue what was going to happen, or how things would end up. Sometimes they weren't as communicative as I would have liked, but we got there in the end.
3. Other than your preferred genre, is there a genre you'd like to experiment with in the future? Why?
I love cozy mysteries, and, in fact, have a series in this genre in the works, but it's way, way on the back burner. Once the Knights of Kilbourne books took off, I sidelined this other series, but it's still there, waiting. It centers on a young woman, Maggie Harper, who quits her job as a software developer to follow her dream of opening a bistro/literary arts center in a (fictional) small Vermont city. On opening night the literary guest of honor is murdered. Maggie's partner (and possible crush) Colin is accused of the crime, and she decides to investigate on her own in order to clear him. I currently have about 75% of this book written, and concept notes for two more.
4. Tell me more about your main characters.
Morgan McRobbie, the "knight' of the titles, is Knight-Commander of the Kilbourne Legion after his instrumental role in defeating a recent invasion by Kilbourne's aggressive northen neighbor, Rhuddlan. Morgan is 27, and comes from a military family—although all his ancestors served as naval officers, and Morgan has broken ranks to join the Legion. He is bi-racial; his father is white, but his mother is black, from the island nation of Orsk, and Morgan has fought many battles as a boy because of how he looks. He still deals with prejudice from other nobles of the King's court. Morgan operates primarily on his instincts, which generally serve him well. He is a man of honor, and his initial assignment when readers meet him in Traitor Knight brings a lot of conflict, since he must pretend to be a turncoat.
Marissa duBerry, the other main character, is a young woman from one of Kilbourne's southern provinces. She has relocated to the capital, Caerfaen, to serve as lady-in-waiting to Queen Gwyndolyn, with whom she was friends at school. Marissa is more interested in books than in fashion and furbelows, although she does love to dance and jumps at the chance to attend a ball. She is intelligent, independent, and opinionated, and brooks no nonsense from anyone. Her opinion of most ofthe nobles of King Rhys' court runs to "Peacocks in appearance, and peacocks in brains." Yet she does find Morgan McRobbie, who manages through no fault if his own to rescue her from a dragon, intriguing, attractive, and infuriating. But she definitely isn't falling in love with him. Nope, not a bit…
5. Writing can sometimes be an emotionally draining and stressful pursuit. Do you have any advice for discouraged aspiring writers?
I think my main advice would be to cut yourself some slack. Don't feel like you have to churn out a book in a certain period of time. Life has a habit of getting in the way, and sometimes you have to deal with those other priorities. Family, jobs, and social commitments are all very important. Writing is a solitary business, at least the creative side of it. So don't neglect those other aspects of your life for the sake of your writing.
Also, give yourself permission to down tools for a bit if things aren't coming. I see a lot of writers who advocate writing every day. Which is fine, if you can manage it. But don't feel like you are required to do so. I say, do what works for you. If you feel inspired to write, do it. If you're stuck in a slump for a bit, don't sweat it. Your brain knows what you're working on, and one day, while you're doing something totally unrelated, that new inspiration will hit like lightning and you'll be off to the races again.
6. Is there a key theme or message in your work?
For a long time I really didn't think there was any underlying theme in my work. I write "fun" stories, primarily just to entertain. However, after completing my third book, which just released in April, I realized that I do have a theme running through each of my stories: the theme of choice. We all are shaped by the choices we make in life, large and small, and my stories really examine the choices that both Morgan and Marissa (and Wyvrndell, the dragon) make throughout these tales—why they chose the way they do, and how those choices will affect them (and others around them). In Enchanted Knight a seer tells Marissa, "To save what you love, you must chose what you will become." This is my theme.
7. What early experience taught you writing had power?
When I was quite young, I read T.H. White's classic The Sword in the Stone. And I loved it. First of all, it was a terrific story. But beyond that, even as a callow youth I appreciated how White brought in all the historical bits of the era, or at least what he imagined them to be, and taught you things. I learned about haying. I learned about falconry. I learned about migrating birds, about knights and wizards. And honor, and sometimes the lack thereof. And all manner of things. And White taught me that words do indeed have power.
Also when I was young, my mother would read Winnie the Pooh stories to me. My dad had departed for parts unknown, and we'd moved in with her parents. And so mom would co-opt her two younger brothers, and we'd all act out the Pooh stories. We had a 100 Acre Wood in the forest across the street, and it was lovely for a young boy (probably about the same age as Christopher Robin). My uncles and mom would take all the parts in turn, and we'd track Heffalumps, or survive the great flood. I was the smallest, so I was always RooDear, and Rabbit's Friends and Relations. And this all taught me about world-building. Because A.A. Milne, while telling children's' stories, built this marvelous world that we could live in. And it showed me (later in life) just how important, and powerful, creating your fictional world can be.
8. How would you sell your series concept in the length of a Tweet? What's your "elevator pitch"?
I actually do this a lot. I attend a lot of Renaissance Faires as a vendor, hawking my books there, since the people who go to those events are really my key target audience. My pitch is: "Swashbuckling fantasy in the vein of The Princess Bride, filled with adventure, intrigue, and romance, all laced with a bit of humor. Dashing knights, indomitable damsels, and a dragon with a most inconvenient case of hiccups." 226 characters, so it fits in a Tweet. And the last bit about the dragon with hiccups almost always gets a chuckle, and then I'm halfway home…
9. What's your favorite and least favorite part of the publishing journey? Any advice for writers starting their publishing journey?
One of my favorite parts of the publishing journey is actually seeing that book in print. To hold the product of two years of labor in your hands is an amazing feeling. But another, even better, is when readers come up to me at events, or reach out via email, or leave a review, and say they enjoyed the book (and when is the next one coming out?). To me, that is why I write—to entertain people, give them a few hours of fun and pleasure.
My least favorite part? I guess it's the difficulty that any indie or small-press author finds in getting their books noticed. There are so many books published each year—many terrific, others not so much. But the sheer numbers of choices available to readers is staggering, and it's really tough to just get your work in front of people that might enjoy it if they knew about it. This is one of the main reason I do the numerous Renaissance Faires each summer (although this year my tour will definitely be curtailed by the current public health crisis). But interacting with people one-on-one and trying to get them interested is actually my best method for getting noticed, and it's how I sell the majority of my books.
10. What other project(s) do you have in the works?
Beside the fourth novel in the Kilbourne series, I also have a good start on a collection of short stories set in the same world—all the fun stuff that didn't actually belong in the novels (think backstory galore) but was too good to let languish untold. Also, at the request of my publisher, Champagne Books, I'll be working on a children's picture book about Wyvrndell, my dragon character. I have the text done, and Champagne has an illustrator they'd like to work with. I'm really excited about this new direction, and can't wait to bring this to fruition.
One thing I would love to do is get audio versions of my books produced. I'm working on my publisher to get this done. It's expensive to do right, and I don't know if it will happen, but I'd love to see it. There are so many people who listen to books in this manner now, and I see audio as an important avenue to gain more readers.
Thank you for being willing to "sit down" for an interview, Keith! I appreciate your time and the wonderful answers you've provided.
Be sure to add the books from the Knights of Kilbourne series to your Goodreads TBR! You can follow Keith on Goodreads, Twitter, and Facebook. If you're interested in purchasing Enchanted Knight or the first book in his series, you can find the books available on Amazon.
Note: His first two books are currently on sale. Traitor Knight is free, and Desperate Knight is $1.99; Enchanted Knight is $3.99, so you can get the entire series to date for only $5.98! Not sure how long this deal will last, so go scoop them up!