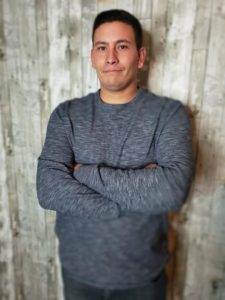 This week, author Mike Salt was kind enough to sit down with me to discuss his writing and upcoming project, The Valley!
Salt was born in Texas in 1987. His family relocated to Klamath Falls, Oregon when he was 3-years-old. In his early 20s, he began working for several comic book publishers as either a writer or an art director. In 2013, he began working on his short stories, submitting them to various magazines and collections. Mike Salt joined the USAF in 2014 and is now back in his hometown. He finally married his wife, Brianna, in 2019. They have two daughters, Kyla and Lennox, and one son, Justin. The house also has two pups and a small fish named Salty.
In Salt's latest novel, The Valley, four childhood best friends and their wives meet for an annual get together—a long weekend in the cascade mountains. After discovering a map revealing a hidden location within in a remote valley, the group follows it, hoping to bring a spark of excitement to their weekend getaway. But waiting for them in the valley is something no one can explain, and it may cost them their lives.
1. What's your favorite thing about your upcoming book, The Valley? After writing Damned to Hell (DTH), I really wanted to write a story that had more than one narrator. I enjoyed writing DTH, but I wanted to write something that was more traditional horror.
2. What did you learn while writing the book? I had to do a lot of research about ghost towns. I tried to figure out what the buildings would have been, how many would have been in a small town, what the cabins would have had inside of them. It's one of those things that authors do where they spend too many hours researching something that is so small the readers probably won't even notice!
3. Where do you get inspiration? I had a couple different ideas I was playing with after DTH, but none of them felt right. My wife and I were driving home from her aunt and uncle's house outside of Salem, Oregon, and she was helping me find what my next project was. I saw an old barn that looked like it had been abandoned for over a century and that was enough to click everything into motion. We talked most of the ride home about what it could be.
4. How do you approach writing? What tactics do you use? I'm a strong believer in no matter what, get to 1000 words. At the very least that's my goal, but generally I'll block out 1-3 hours at the end of the night and try to put down as much as I can (somewhere in the 3k ballpark if it's a long night). I don't outline, but I keep notes. I have a little notebook that looks like something a crazy man wrote, just sideways scribbles outside of margins talking about ghosts and dead people.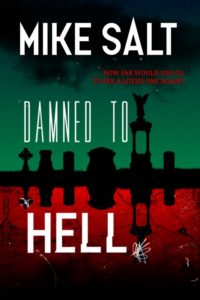 5. How long, on average, does it take you to write a book? What does the writing process look like for you? The first draft of Damned to Hell was written in less than a month. The first draft to BLIND (which is still unreleased) took me 4 years. The Valley is somewhere between DTH and BLIND as far as word count goes, and it's taken me close to five months to get to this point. I guess every book is different for me, each with their own setbacks or hook-ups. I haven't seen much similarities between any of the books when it comes to the actual process.
6. Is there another genre you'd like to dip your toes in? Not yet. Maybe someday I'd like to head back into comic books and try that again, but right now I'm content with where I'm at.
7. What early experience taught you writing had power?  When I was in the 3rd grade I picked up Animorphs. It was stupid, and fun, and a long journey that had a new book every month. I remember waiting impatiently for the next book to come out and then binging it as soon as it was in my hands. It was like an obsession.
8. What do you hope your readers take away from your book? I just hope it inspires them. I want people to finish my books and realize that anyone can write. Everyone I've ever talked to has a story they wish they could write, and I think anyone can do it. I want people to give it a shot. You'll never know unless you try.
9. What's your favorite and least favorite part of the publishing journey? I mean… you know. I'm not gonna out myself yet because it isn't officially announced, but you know.
10. What other project(s) do you have in the works? The Valley should be out this summer, I fully expect BLIND to be out for a Halloween 2020 release. I'm also coauthoring a horror/drama with my best friend that will be crazy fun.
Thank you for being willing to "sit down" for an interview, Mike Salt! I appreciate your time and the wonderful answers you've provided. 
Find Mike Salt on Instagram and Goodreads! If you're interested in reading some of Mike's work, you can find BLIND available for Pre-Order on Inkshares, and Damned to Hell on Amazon—be sure to add it to your Goodreads TBR!