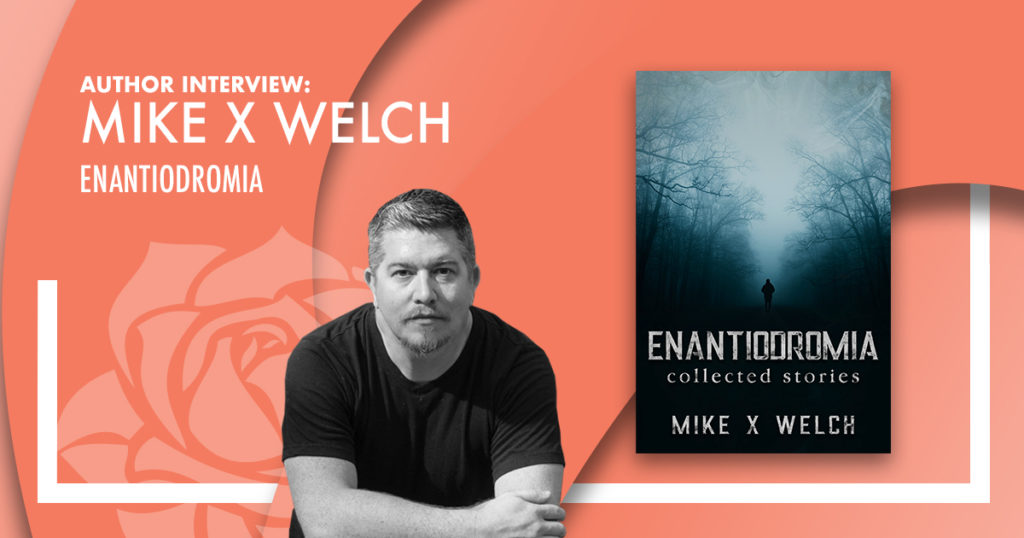 I interviewed author Mike X Welch this week about his newest collection of stories, ENANTIODROMIA, and his thoughts on writing. Mike has stories featured in the Writing Bloc's Deception and Escape anthologies.
Mike X Welch was born in Wilson, NY, and started writing fantastical fiction as soon as he could hold a crayon. After 25 years living west of the Mississippi, he resides in Newfane, NY with his wife, the author/actress/educator Aly Welch, and their kids. Mike pays his bills by providing IT Support to happy customers. His dream has always been to be a writer.
ENANTIODROMIA is a collection of short horror stories. The stories are visceral, literary, and at times, funny.
1. What inspired your newest collection of stories in ENANTIODROMIA?
More than anything, the collection is a proof of concept; that I can actually finish something I've started—that I could work with an editor—and that I could produce something to hand to folks when I say 'I'm a writer.'
2. What's your approach to anthology writing and short story writing?
I know that I like to stand out in a crowd, so if the collection has a theme, I always try to put the best spin on the theme that I can manage. In terms of actual SS writing, I've always harkened to something I learned back when I was reading Poe; every word has to mean something in a short story—every verb, noun and adjective has to contribute to the mood, tone, etc. I try, and fail, to do that. But I'm always conscious of it.
3. Other than your preferred genre, is there a genre you'd like to experiment with in the future? Why?
Sci-Fi. Honestly, I don't know that I'm skillful enough—or a sophisticated enough writer, maybe that's a better way of saying it—to pull off writing in a genre that doesn't veer away from reality. Fantasy, Sci-Fi, Horror—these all allow for detours into the fantastic that aid in illustrating the extreme, which is what I like to do. I'm not sure I'm a good enough writer to illustrate a 'normal' world and have it still be exceptional. Not yet.
4. How do you balance a day job/family and your creative endeavours? How do you structure time to put towards writing?
(laughs) Well, don't tell my boss this, but I probably get more writing done—at least in the past 3 years—at work. Home is chaotic and there are dozens of other things to do (video games, books, movies, sleep), but work is more constrained in that… I can get away with lots of typing and it's not obvious that I'm… not working on work. My wife writes, typically, at night, in long uninterrupted stretches. I can't do that. Or at least, I haven't done that for years. Our kids are 10-year-old twin boys. They're like feral racoons playing Roblox and raiding the pantry in equal measure when they're not chasing each other around the house yelling at full volume.
5. Writing can sometimes be an emotionally draining and stressful pursuit. Do you have any advice for discouraged aspiring writers?
Move on to something else. Writers have to write. If you're not compelled to write (and I don't mean day to day, more like….month to month), then you might not be a writer. So rather than trying to put a gun to your own head and force more words into your Work In Progress (WIP), maybe put it aside and write something else that isn't a struggle to write. And if it's a struggle to write anything, then edit. And if you can't edit either, then read. If you're not doing one of those three, check for a pulse. And turn off Netflix.
6. Is there a key theme or message in Enantiodroma?
My editor pointed out that there are repeated symbols in my five separate stories—mostly doors/portals—things that my characters either have to go through, or choose to go through, or want to go through but can't/don't, etc. And that wasn't intentional, so I liked that it happened. She also noted that, when taken as a whole, it's possible that the protagonist of each story is really the same person just living different lives, because they tend to have the same motivations and attitudes. It would've been nice to have married the theme of enantiodromia*, the Jungian concept, to more of my stories, but that didn't work out… at least not consciously.
7. What early experience taught you writing had power?
The attention it gave me. I'm self-centered and ego-centric in the extreme. I'm a weird combination of being very self-aware, having medium to high self-esteem, but I still yearn for the satisfaction of someone saying 'what you did (drew, wrote, said) was neat/good/jarring/something.' I feed off of that. I probably should've been an actor.
8. What do you do when you hit writer's block/writing fatigue?
Disconnect, disengage. That's the easy part. It's managing the guilt/shame that's hard. Moving on to a different WIP, as I said earlier, helps sometimes too.
9. What's your favorite and least favorite part of the publishing journey? Any advice for writers starting their publishing journey?
Avoid Inkshares, or at the very least, understand them for what they are. My father constantly told me 'there's no such thing as a free lunch' and I've been learning that lesson over and over ever since. My favorite part—people's reaction to you being a published author—they look at you like you're a rock singer, or actor, or… something other than a normal person. At least they do for me until I open my mouth.
10. What other project(s) do you have in the works?
Currently working on expanding some of the short stories featured in ENANTIODROMIA into novella/novel length material; working on a Sci-Fi short story collection.
---
Thank you for being willing to "sit down" for an interview, Mike! I appreciate your time and the wonderful answers you've provided.
Connect with Mike on Twitter and visit his website for more information about his work. You can find ENANTIODROMIA on Amazon, and remember to add it to your Goodreads TBR!
*Enantiodromia – the tendency of things to change into their opposites, especially as a supposed governing principle of natural cycles and of psychological development.