I created the Author's Guide to Typesetting in InDesign for authors who want more control over their book's interior layout. InDesign can seem like a daunting program. There are a lot of tools and features, many of which you won't need for typesetting or layout. In this article, I'll give you a step-by-step, start-to-finish guide on how to publish your book with a custom-designed feel. We'll discuss creating a document, creating the rules which will govern your document, laying out text, and exporting for print.
InDesign is the leading program professionals use for book layout and production. It's complex features make for high customization and professional quality. Mastering the program can give you a leg up in production and save you money.
Note: Before starting your typesetting in InDesign, you should have completed all rounds of editing in your Word document. Your manuscript should be as close to perfect as possible before laying it out in book form. 
Working with a Template
Amazon doesn't offer InDesign templates, but they do offer Microsoft Word templates. This has to do with the fact a lot of people don't have access to InDesign or know how to use it. You can, however, still layout your book in InDesign and upload it to KDP.  
For the purpose of this article, I created a template for myself using the methods I'll outline below. I'm making it available for anyone who would like to use it as a branching off point to create their own. 
Tools of the Trade

As I mentioned, InDesign has a variety of options you can use to build out your document. These are separated on either side of the screen. We have Left Screen Tools (located on the left side of InDesign) and Right Screen Tools (on the right side of InDesign). You can add more tools to the Right Screen by going to the Window dropdown in InDesign's menu bar. 
Left Screen Tools:
The basic tools you'll need for working on novel layouts are below. If you hover over the tools, their names will appear. These are in order from top to bottom on the tools panel, but I'm excluding a few you might not necessarily need for your project.
Select Tool –

Selects an object or group.

Direct Select Tool –

Selects a single object within a group.

Type Tool –

Creates text boxes, highlights text.

Line Tool –

Create lines to add interesting elements to your page.

Rectangle Frame Tool –

Creates boxes you can place images into.

Free Transform Tool –

Changes the size of objects

Color Fill –

Changes the color of objects. To change text, select the text box with the Select Tool, and click the T beneath the Color Fill section. This will allow you to change the text color. Another way to do this is to Select All the text and change the color using the Color Fill box. 
Right Screen Tools:
If you look at the menu bar running across the top of InDesign (following along behind File, Edit, Layout, etc), and select Window, it gives you a variety of tools to add to your workspace. You can also select pre-organized Workspaces. 
I, myself, work in Essentials Classic. But, there are other options. You may wish to work in the Book workspace, but, for the sake of this article, everything I'm describing is found by navigating using Essentials Classic.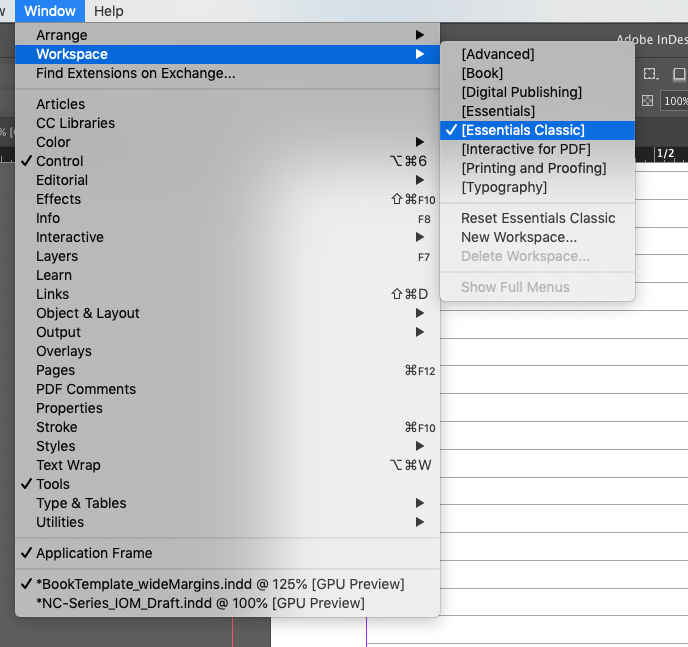 Right Screen Tools you'll need:

Pages –

You will have a LOT of pages in your book. This is a compact way of viewing and organizing them. The Pages panel also allows you to create Master Pages, which you can style and apply to hundreds of pages at a time, without having to add elements to each individual page. This becomes handy very quickly, and we'll go into more detail on this feature later. 

Layers –

You may not use this very much, especially if you're utilizing the Master Pages feature. It allows you to put elements on different layers and turn them on or off. This feature is especially nice for placing a Template on an InDesign page and hiding it away periodically as you work. 

Links –

Any images you add to the document will be found here, in list form. It allows you to see, at a glance, any altered or missing links you might have. An altered linked (signaled by a yellow warning triangle) means you've edited an image and haven't re-synced it with InDesign. To fix this, double click on the yellow triangle. A missing link (signaled by a red circle and white question mark) means the image you placed in InDesign no longer exists in the folder you got it from. If you don't fix missing link issues, you'll have pixelated images when you go to print. To fix a missing link issue, you must put it back in the original folder, or replace it in your file from the new location. You can also click the "chain" symbol to re-link manually to the new folder.

Stroke –

Allows you to adjust the thickness or style of the line you've created. You adjust the color of the Stroke in the Fill Tool section on the left. Click the hollow box behind the Fill Tool solid color and it will let you access the stroke color fill options. 

Swatches –

Quickly access commonly used colors or colors you've saved as swatches. 

Effects –

Adjust transparency, create drop shadows and other stylistic changes to objects. 

Character –

Select your font, style, character size, spacing between lines, and more in this section. 

Paragraph –

Adjust your paragraph text to left, right, centered, or justified.

Glyph –

allows you to add special characters into your text. I usually manually add this tool through the Windows dropdown at the top of the program.

Text Wrap –

allows you to adjust your text around any images you may have added. 
Creating a New Document

Depending on which version you have, your document setup screen may look a bit different. I work on InDesign CC at work and InDesign 6 at home (probably soon to change now that I've updated to IOS Catalina -_-). 
When you select File → New → Document, the New Document screen pops up. 
Width & Height
In the Width and Height area, you might see numbers displayed a bit… odd (unless your version of InDesign is already set to inches instead of picas). Change the unit of measurement to Inches. If you're in America, you're probably more used to working in inches. 
The most common indie published book is 6×9. For the purpose of this tutorial, this is the measurement I'll be using. You'll want to set your document to 6" wide by 9" tall. But, don't get carried away and click Create. We need to setup your margins and bleed. 
Margin
Margin can be tricky, depending on the thickness of your book. You may want a wider margin for super hefty tomes. But, for the typical 6×9 book, you can use these measurements below.
Top Margin: 0.875" or 1"

Outside margin: 0.625" 

Bottom margin: 0.875"

Interior margin: 0.75" or 0.875"
Bleed
Bleed is the term used to describe the content that flows off the edge of the page. You may not need this feature, but set it up anyway. You'll want to export your document with bleed settings at the end of this tutorial. 
Most people suggest 0.125" all around for bleed, but I like a lot of bleed. I usually set mine to 0.25" all around. Better safe than sorry.
Once you've adjusted your margin, and added your bleed, you're ready to hit "Create". 

Building out your Template
After creating your document, you'll set all the rules the document will live by. This will help you streamline your layout process and save yourself time-consuming edits later. 
Take a moment to think about how you want the interior of your book to look. Grab a few books off your shelf and flip through them, maybe use one as a guide in setting up your design. 
Once you know how you want the inside of your book to look, go to InDesign and select the

Pages

tab on the right side of the screen. It's the first tab, and looks like two pages side-by-side.
The Pages tab is divided into two sections. In the first section, you'll see a list  of two items: [None] and A-Master. Beneath that, you'll see a single page, which is the first page of your document. At the bottom of the panel, right to left, you'll see the trash bin icon (to delete pages), a + icon (to add pages), and an overlapping vertical and horizontal pages icon (change paper size icon). 
Let's go ahead and add some pages to our document. There are two ways to do this. The long way is to repeatedly click the

+

icon. But, our document will require a lot of pages, so right click on the gray area within your

Pages

tab, next to your one, lonely page




Select

Insert Pages

and enter the amount of pages you need besides the one(s) you already have. Don't worry, you can always add or delete pages later. If you're unsure how many pages you'll need, take your manuscript word document and multiply the page count by 2. This will get you close.

After adding pages, go to the area above the page list, where it says

[None]

and

A-Master

. Right click on the area beneath

A-Master

.




Select "

New Master

". Hit Ok.




Once your new master page is created (should say

B-Master

, but you can name it whatever you want), double click on

B-Master

. This will take you inside the master page, and allow you to edit it. 
Why are we editing B-Master instead of A-Master? A-Master is going to control the part of our document which should be void of stylistic elements like page numbers, title, or author name. A-Master is for the places you need blank pages, where you'll be custom adding information, like the copyright text, dedication, and title page.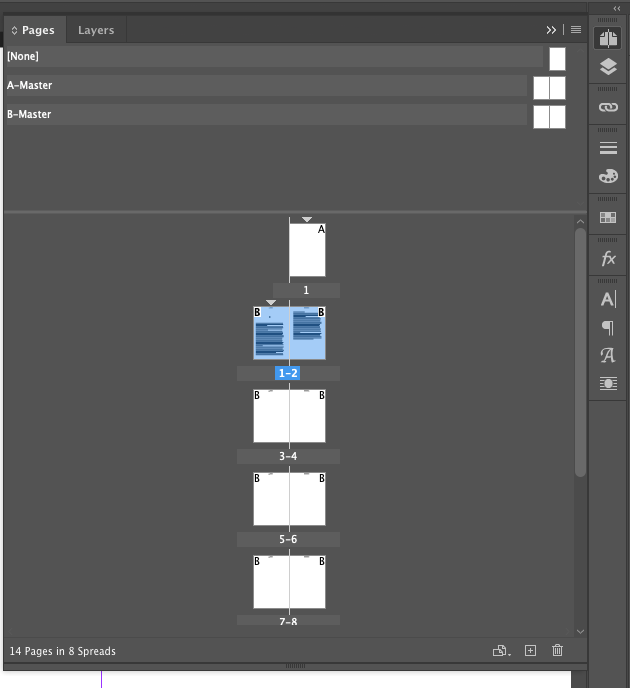 B-Master Page Design
I like to add the stylistic elements which will carry through a majority of the book to the B-Master pages. Here, I'll add my page numbers, title, author name, etc. 
Build out your B-Master how you'd like. Choose the font you want for your whole document, or use something a little different for this section. Be mindful of font and element sizing. I recommend going on the smaller side (but not too small) for these elements. Make it readable, but not distracting. 
Page Numbers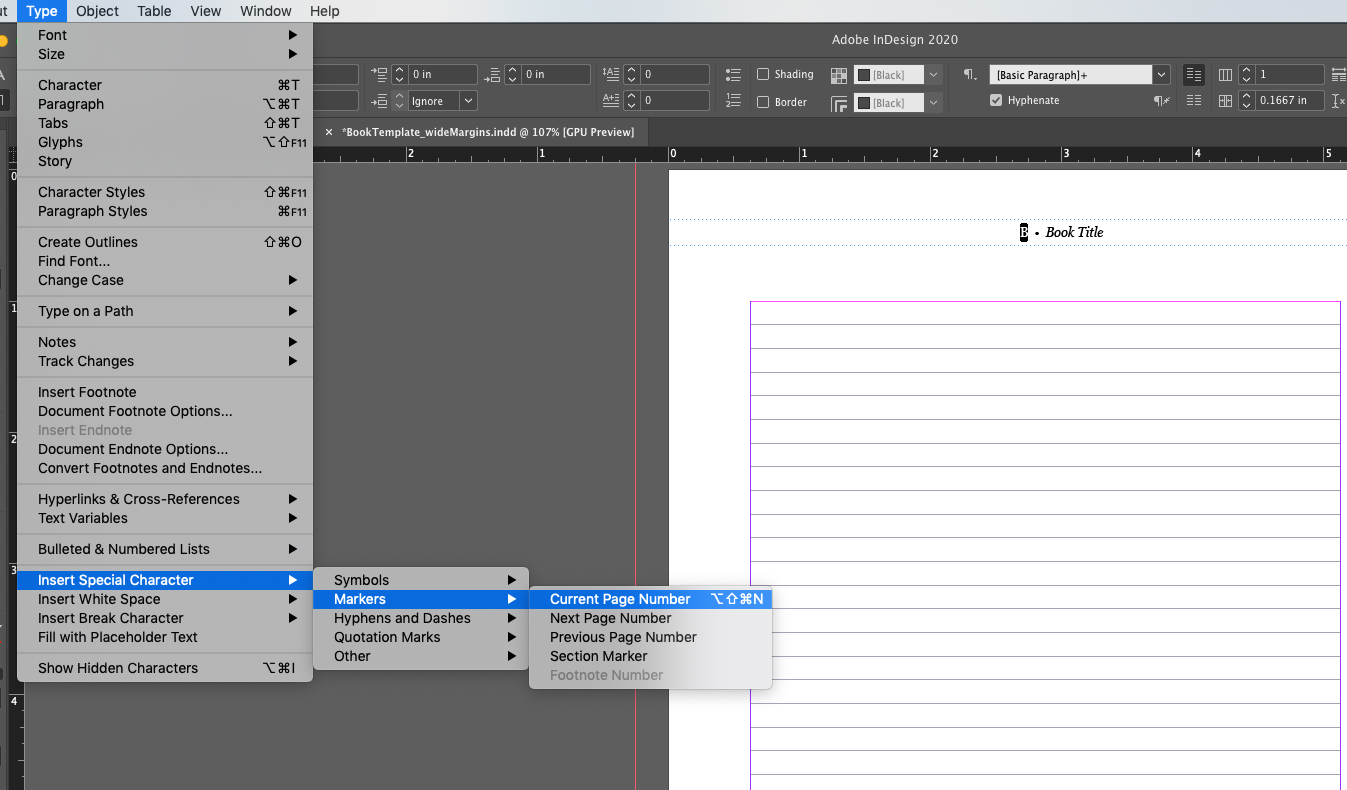 How to add page numbers to your document. 
Create a text box using the

Type Tool

.




Add a letter or number, it doesn't matter which or what.




Highlight the letter or number you've created, then go to the

Type

dropdown menu at the top of InDesign.




Select Insert

Special Character

→

Markers

→

Current Page Number

. 
You should do this for both the left page and right pages. You won't see a page number. That's okay. This is just a rule you're setting for these text boxes which will apply to all the pages you connect to B-Master.
Page Layout
Once you've created your B-Master page design, you'll set it aside for right now. Click out of it by double clicking the first page of your actual document in the Pages tab. This will take you to the live section of your document. 
Use the Type Tool to do a rough organization of pages. Just create small text boxes for each page and write what will go on that page. You'll typically need:
Title Page

Copyright Page

Dedication Page

Table of Contents (if applicable)

Acknowledgements (if you want them in the front, typically go in the back)

Chapter 1
When you reach the first page of Chapter 1, go back to your Pages tab on the right. 
Select the first page of Chapter 1, and all the remaining pages beyond it.




Once they're all highlighted blue, right click on one, and select

Apply Master

to

Pages


Select

B-Master

.




Click OK. 
Now, the B-Master design you created earlier has been applied to all appropriate pages. 
Take a look at the first page of Chapter 1. You'll notice Chapter 1's page number doesn't start with Page 1 (as it should). Don't worry. We'll fix this later. For right now, we need to decide how the text should be styled—type size, line spacing, font, etc. 
Text Styling
Font
The font you choose is extremely important. Different fonts work for different jobs. A serif font (fonts with little wedge feet) are best for print because they are the easiest to read. You rarely want to use san-serif fonts for novels. 
San-serif fonts work best for digital platforms like websites or mobile devices (but not e-readers). Choose your serif font wisely, but don't go crazy. Sometimes the best choice is the most common one. I'm particularly fond of Georgia, Garamond, and Lora.
Font Size
Font size is crucial. Too small, and it's hard for the reader to see. Too large, and you're wasting space in your book (and it can seem unprofessional). My design professor used to say anything over 11pts was for geriatric people, and would be considered that on viewing. So, I usually like to stick to sizing fonts between 9pts and 11pts, depending on what font I'm using. 
Different fonts appear in different sizes. With Georgia 11pts and Garamond 11pts, one can appear larger than the other. The best way to judge the appropriate font size for your chosen font is to create a test page to gauge varying sizes and line spacing.
Let's do that. 
Creating Test Page
I'm going to ask you to do this in InDesign and not in Word. InDesign and Word treat fonts differently, and, as you'll be typesetting in InDesign, you'll want to test your fonts there.
Go to your Chapter 1 page. 

Create a text box that stays within your pink margin box. 

Pull a short paragraph from your story, one or two sentences or one long sentence.

Paste it into the box. 

Add a line of text above it which says

[Insert Font Choice] Size 9

. 

Select your pasted text. 

Change it to your font of choice using the

Character

tab on the right side of InDesign (

A

icon). 

Then, change the font size to 9. 

Choose line height (directly right of font size). Adjust until it looks good to you. 
For example, I chose Georgia as my font, and set the font size to 9pt and spacing to 13pt.
Once you've made your selections, copy all the text from the Font Choice + Size title, down to the end of your paragraph. 

Paste the copied text 3 times beneath your styled paragraph. 

Now, for each copied paragraph, go up a font size and spacing. (10pt/14pt, 11pt/15pt, 12pt/16pt). Be sure to keep track of your chosen size and spacing in the title above each paragraph. This way, you'll know what you're looking at when you print. When you're finished, you should have 4 different sets of paragraphs at different sizes and line spacing. 

Print this page out. (ctrl+p) Select range of pages and enter the page number of your font test page. 

Hit print.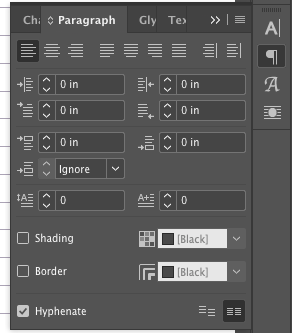 Once printed, sit down with it. Have a look. Analyze the sizes. Find a font size and spacing you think works best for your size book and audience. You'll use that font size and spacing going forward.
Go back to your document and paste a page of text into the text box you were using. Style it with your chosen font, size, and line height. Now, play with the line spacing. Adding, subtracting, until you find the look you want.
Having a good amount of line spacing between sentences is nice. It doesn't make the reader feel crowded and lets the book breathe. Too close together and things feel muddied or crammed. Too far apart, and you're wasting space.
For me, I went with Georgia 9pt font size, and 13pt line spacing. 
After you get this set up, Select All. 

Click the

Paragraph

tab on the right side of the screen and uncheck

Hyphenate

at the bottom of the panel. 
Tab Indents
Next, we need to set our tab indent. Tab a few of the paragraphs, if you haven't already. 
The space of a tab should be around 5 characters wide. It can be a little less, but shouldn't be much more. 
Create your tab spacing by Selecting All text. 

Click the

Type

dropdown at the top of the program. 

Select

Tabs

. 

Align the tab box over your text so you can measure 5 character spaces. 

Click on the ruler in the area you feel is around 5 character spaces (usually just past the 0.25" mark). Your tabbed text should adjust to match this rule. 

Click out of the

Tab

box.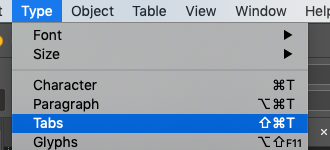 Grids
I like to add grids to my document so I can adjust everything to baseline, helping all the text align from one page to another. 
For Mac users, this is in the InDesign dropdown to the left of File. For PC users, it may be labeled as a Setting or Preferences dropdown, I'm not sure. 
When you find it, select Preferences → Grids.
Set the following:
Color:

I set mine to Charcoal. Just don't choose blue (all element boxes are blue).

Start:

0

Relative to:

Top Margin

Increment Every:

[Chosen Font Spacing pts]

View Threshold:

75%
Save your settings.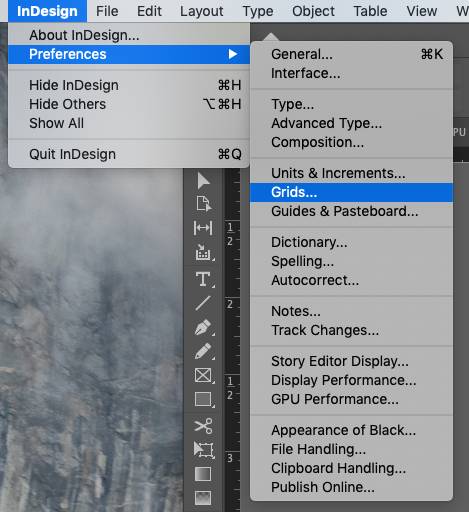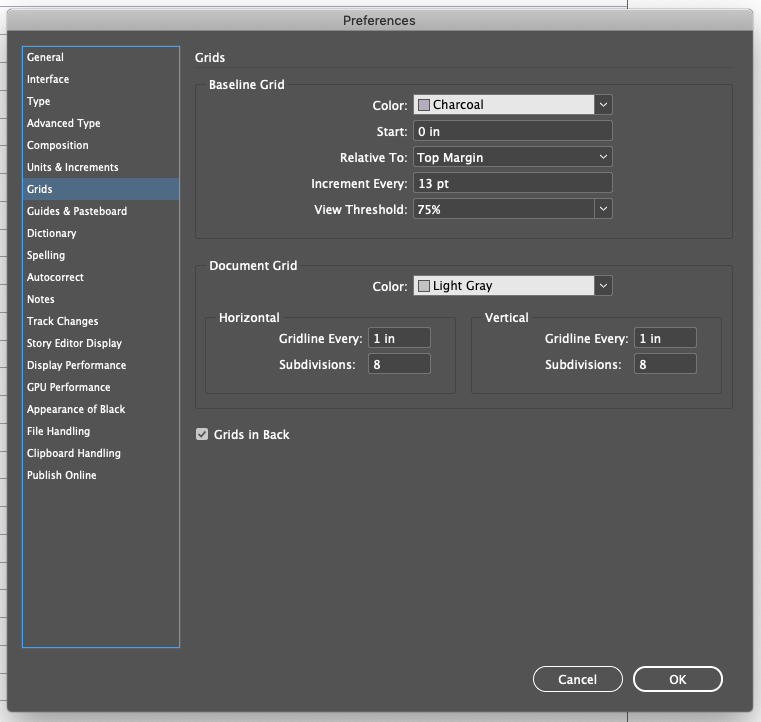 Creating Paragraph Styles
Now, let's create a Paragraph Style which will carry throughout the document. 
Click inside your text box. 

Select All. 

Look at the

Toolbar

running across the top of InDesign. You'll see a dropdown menu which reads

[Basic Paragraph]+

. 

Click the series of lines on the right of the dropdown. There are two stacked on top of eachother. You want the one where all the lines are matched up. This will line your text to the grid we created earlier.

Next, on the left side of the dropdown labeled

[Basic Paragraph]+

, click the

Paragraph

symbol. 

Select

New Paragraph Style

. 

Name your

Paragraph Style

(I named mine Chapter Text). 

Set Based On to

Basic Paragraph

. 

Click OK. 
Now, your document is ready to begin layout. Let's start with Chapter 1.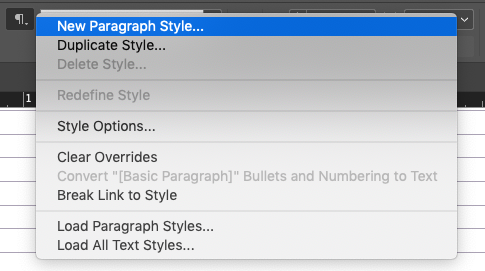 Laying Out Your Book. 
Start with Chapter one. Determine how you want your chapter lead-ins to look. Grab a few books to flip through to get an idea of what other typesetters have done. Once you've made your choice, go to your Chapter 1 page and start laying it out. 
I like to create separate text boxes for the Chapter Header and Chapter Text. 
Chapter Header
Feel free to get creative with your chapter heading, change it to a different font from your Chapter Text or leave it the same. It's completely up to you! 
After you've styled your

Chapter Header

the way you want it, select the text. 

Go to the paragraph symbol next to the

[Basic Paragraph]+

dropdown and create a new

Paragraph Style

for your

Chapter Headers

. You'll be able to use this to style your

Chapter Headers

moving forward.
Chapter Text
I usually start my chapter lead-in textbox about 5/8 to 1/2 down the page, and go to the edge of my margin. 
Paste your Chapter 1 text in. All of it. You'll notice, it won't all fit. That's okay. We will link text boxes across multiple pages. 

Select All your text (ctrl+a). 

Go to the

Paragraph Style

dropdown at the top and change

[Basic Paragraph]+

to

Chapter Text

, if it doesn't already say that. This will convert your text to the style we created earlier.

Next, at the bottom of your blue text box, you'll see a red

+

symbol. Click it. 

Then, click at the top of the margin on the next page (pink line). This will create another text box, carrying the hidden text over. Repeat until Chapter 1 is laid out. 

Repeat the above steps for the remaining chapters of your book, until you reach the end. 
The Finishing Touches
If you have extra pages after laying out your chapters, that's great. You can easily delete them using the Pages tab on the right, and trash can symbol in the bottom corner of the tab. More likely, you've had to add pages. (And hopefully applied the B-Master style to them along the way). After laying out all your chapters, add the "closing" pages to your book: the acknowledgements page, glossary, etc. You can keep the B-Master styling or apply the blank A-Master styling, this is up to you.
Page Count
Look at your page number count. In order for your book to print, it has to be divisible by 4. If you can't evenly divide your book by 4, you must add a few pages to make this happen. You can fill these pages with individual thank yous, sponsors, or a glossary of terms for your novel. 
Page Numbering
Earlier, we created our page number styling on the B-Master page and left it at that. To get the numbering to work as it should, we must return to our Pages tab on the right side of the screen. 
Select the first page of Chapter 1, and then all the corresponding pages until the very end (or when you would like to stop tracking page numbers). 

Right click on the blue pages and deselect

Allow Document Pages to Shuffle

. This will remove your ability to move pages out of order. It also makes it a pain to add new pages randomly. But, why would you want to do that? At this point, you shouldn't need to. 

Select the first page of Chapter 1 again. 

Right click. Select

Numbering & Section Options

. 

Click

Start Page Number at:

and set it to 1. 

Click Ok. 
Chapter 1 should now start on page 1, and the subsequent pages should follow. 
Proofreading 
Once you've completed your layout, you should print a copy of your book to review and markup. Use the directions below to submit a PDF for print. This helps you spot any issues you didn't notice through the seemingly hundreds of rounds of edits you did before in Word. It'll also help you spot any styling issues or errors you missed during typesetting. 
You can have proofs of your book printed through your printer, or you can print the document in spreads on 11×17 pages from a local print shop. It will be costly, but worth it. 
Time to Print
Once you've "proofed" your book and corrected any errors, export your book as a PDF from InDesign: 
Click

File

→

Export

Name your document.

Select Adobe

PDF (print)

.

Click Save. 

At the top, in Adobe PDF Presets, select

High Quality

. 

On the

General Tab

make sure

All pages

are selected. Export as

Pages

(not spreads). 

On the

Marks and Bleeds

tab, select

Use Document Bleed

Settings. Don't worry about anything else. Most printers, unless you're doing single sheets, don't need crop marks for books. 

Click

Export

. 
Your book is ready to send to your printer. 
As far as your cover, I suggest hiring a designer if you can afford one. It's relatively easy to find one that works with your budget using the internet. Covers can range between $50-$500 depending on the designer you choose. (I typically do them for $150). A professionally designed cover can add value to your book, make you seem more professional as a writer, and draw attention to your work. But, if you can't afford a cover designer, most printers have templates you can use. I know KDP has a few. Just remember to stay inside the margins and input the correct total page count into the template generator. 
I know this post contains a lot of information, but if all else fails, feel free to use the template I've made available for you to download. I've included this post as a GoogleDoc for your printing convenience. 
There are also a lot of YouTube videos available on the subject.
For more author design and marketing tidbits, follow my blog or subscribe to my newsletter. If you're looking for a designer or typesetter to help with your next project, check out Copper Owl Press.