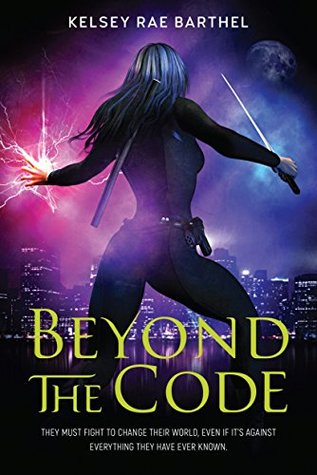 Beyond the Code by Kelsey Rae Barthel is an intriguing urban fantasy–a modern world where gifted, magical knights serve their masters with unwavering loyalty. It's a story filled with rich world-building, political intrigue, and lost.
Aurora Fallon leads a double life–in one world she's a rich heiress and in another she is Luna, the powerful knight gifted with great magic. This isn't an Arthurian tale per se, though it has that feel. This world stands on its own and has a vast and rich history that leaves an opening for even more stories within Barthel's Beyond the Code universe.
Barthel is a gifted writer, with lyrical prose and a talent for action sequences–a talent I admire, as action sequences have always been my weak spot in writing. The beginning did feel action-heavy to me, but that is a personal preference because I'm very much a character-focused reader. I want to get right into the heart of the emotional turmoil! I think that's also why I wanted Cole to last a bit longer, drag out that emotional tension to make his absence all the more painful. Again, this is personal desire and not a critique of the story. The fact I enjoyed Cole's character so much in the brief time he was in the book is a tribute to Barthel's character building.
Beyond the Code is an action-packed, emotional read that takes the reader on a journey to find the true enemy of truth–time.
Beyond the Code is available through Amazon.