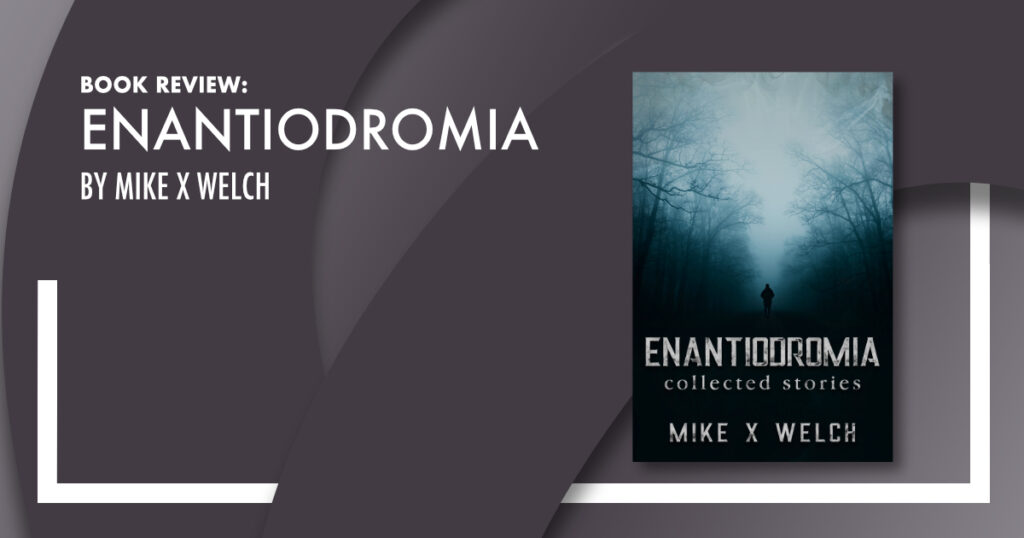 ENANTIODROMIA is a collection of short stories by Mike X Welch. Each story is different, has its own set of rules, and an intriguing feeling—this sort of "waiting for the shoe to drop" feeling—permeates the pages. I liked it. With every story I read, I found myself wondering—waiting—for the punch each story had.
ENANTIODROMIA features five stories:
Turning of the Bones – A lost spirit in Madagascar seeks to guide his descendants to his body so he can finally be free.
The First and Last Drink of Ilona Odd – A recovering alcoholic waits at a tavern in order to pay off a hit man. But there are more spirits around than just those behind the bar.
You Might Get It – A drunk and grieving widower has his wish fulfilled when his recently deceased wife knocks on the front door.
Tuesdays with Moran'd'arth – Sandy Kavanaugh is a world-renowned horror author with millions of dollars and a loving family. So why is he so miserable? Is it the ageless demon in his barn?
Peta Babkama Luruba – A Babylonian slave recounts the events that led to her emancipation—over 4,000 years ago.
Every story is carefully crafted. Welch's writing is lyrical and descriptive, perfectly painting a picture of each scene so that you feel like you are there, but not so bogged down in setting that you miss the rhythm each story sets.
I enjoyed each tale but my favorite was Tuesdays with Moran'd'arth. Sandy Kavanaugh's character made me imagine a broken down Stephen King who'd sold his soul to an otherworldly devil for writing fame and fortune. I don't know why it reminded me of Stephen King, other than it seemed like something he would do (or at least a character of his would do). Perhaps I also enjoyed it because I myself am a writer. Though, I can assure you I haven't sold my soul to the groundhog under my shed. Garry isn't as useful (or imposing) as Moran'd'arth. I loved the ending as well, and I can't say anything other than that. You'll have to read it to find out. 
If you're looking for a great new read, I really suggest ENANTIODROMIA. Especially in the current state of the world, when it seems really taxing to get involved in a lengthy novel or series when we're all so distracted. ENANTIODROMIA offers short snippet stories that are satisfying and enjoyable.