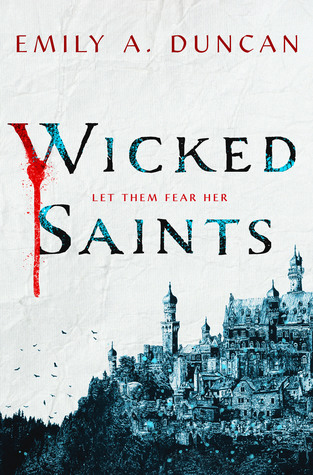 Sometimes you're in the mood for a certain book but may not know it until you find it. That's what Wicked Saints was for me.
It isn't nearly as gory as some of the reviews make it out to be. Based on those reviews, I expected terrible atrocities. Maybe I'm desensitized, but this book, while bloody, was not gory or upsetting. The blood shown was not violent (as in, not murderous)–it was magic. Trigger warning for self-harm though. Blood Mages have to cut themselves to call their magic forth.
Wicked Saints is the epic tale of Nadya, a woman raised in a monastery and gifted with magic by the gods, infiltrating a neighboring kingdom to assassinate their king. The cast of characters are interesting. The story follows two points of view, Nadya and Serefin. Serifin is the Prince of the neighboring kingdom that threatens Nadya's home. He's got his own problems to sort out–if he can stop drinking long enough.
The romance at a few points felt forced, but I think that was all in attempting to keep the book paced properly. I enjoyed the story and look forward to reading the next installment.