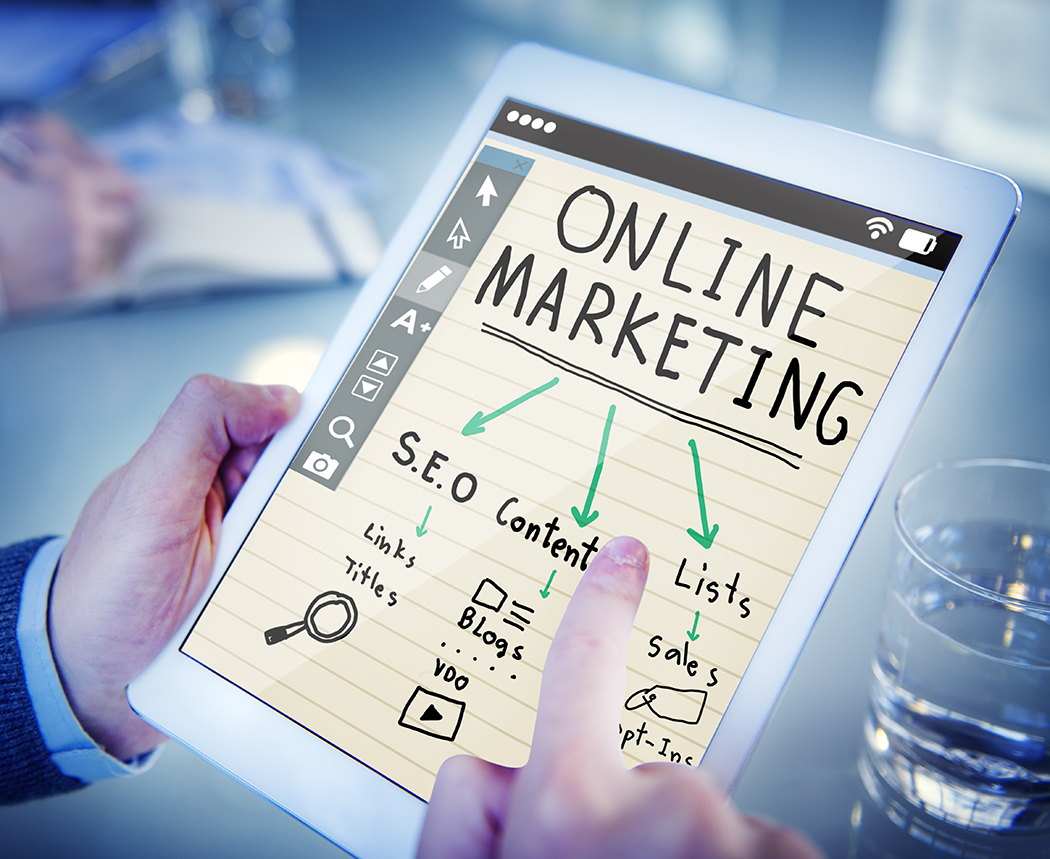 Marketing is difficult. I've worked in design and marketing for almost ten years and the methods are in a constant state of flux. The industries I've worked in have, for the most part, lagged behind current marketing trends. Engineering and manufacturing "Powers That Be" are slow to accept the importance of modern marketing–things like social media and content strategies. 
I've spent most of my career convincing stakeholders in companies the importance of digital and content marketing. So, when I needed to market myself and my book I knew what needed I need to do.
I just didn't have a plan.
Content marketing is the creation and distribution of content to targeted audiences and is a method to expand your audience as well as create a solid "fan base"–people who keep coming back for more. Why is it an important method of marketing? 
Today, content marketing is one of the most effective means of growing your audience (current or potential clients/customers). Gone are the days where you could share a picture of hand soap and call it the best smelling hand soap in the world and people would run out and buy it. Buyers are savvy. You've got to show and tell them why it is the best smelling hand soap in the world–and why (outside of how awesome it smells) they should but it.
Content marketing increases sales, is cost effective, and builds a stronger, more loyal customer base. While content marketing can be easy for companies with solid, straight-forward, no-nonsense products (like hand soap, clothing, board games), it is less so for those who produce subjective content–writing, art, film.
Content marketing for non-fiction writers is a bit easier. Most non-fiction content is already written or easy to write for the author because it involves topics they are already covering and/or are familiar with. Content marketing for fiction writers is harder. 
The ultimate goal of an author (other than sharing their work with the world) is to sell books. You spent months (or years) working on your art and need some return on that investment (other than praise). Not to mention, artists deserve to get paid for their work. However, the purpose of your content can't be heavy on the sales pitch. This is tiring–it can turn people off. Instead, alternate educational, fun, or informative content and sprinkle in that sales talk. 
I wanted to share with you the plan I adopted to help market myself and my book. 
An effective rule for delivering content is the 4-1-1 rule: 
4 Educational Assets (reviews, tips, thought leadership, etc.)

1 "Soft promotion"  (webinar, event)

1 "Hard promotion" (sales pitch/content)
For every four educational assets you give your followers, post one soft promotion and/or one hard promotion. This keeps your readers from feeling overwhelmed or pushed by your sales talk. 
So what types of content can you deliver?
Types of content you can create: 
Blog Post

Social posts (polls, funny comments, normal/everyday interactions)

Cheat Sheets

Definitive Guides

Ebooks

Infographics

Reports

Videos

Webinar

Podcast

Downloadable workbook
Content marketing is easy for me to grasp when it comes to helping other businesses. It took me a while to understand how I could effectively harness it for myself, and I'm still learning the ropes. What helped me the most, and helped me stick with a content marketing plan, was developing a content marketing calendar. 
Some things I considered when developing my calendar:
Type of content Mix.

Ongoing Campaigns.

Strategic Initiatives.
I divide content into three types based on the 4-1-1 model and then broke them down further into individual content groups to help schedule content per week:
Educational Assets [blue]

Thought Leadership

Interviews

Cover Inspiration

Book Review/Opinion Piece

Cheat Sheets

Definitive Guides

Infographics/Curated Content

Soft Sales [yellow]

Event Announcement

Promotional Announcement (giveaways, etc)

Character Sketch/Profile

Hard Sales [red]

Review/Buy post

Patreon plugs
I color coded my calendar so I could see at a glance my content mix and how I was distributing it to my followers. For May through June, the content mix is more uneven than I would have liked. My book released on May 21st, 2019. That, unfortunately, was also around the time I decided to dive headfirst into my content marketing strategy. It's more heavy-handed on the soft marketing than I would have liked, but with the book release it was unavoidable. 
Let me show you the difference between the poor structure of content distribution (May/June) and the recommended. 
May/June content distribution (soft promo heavy):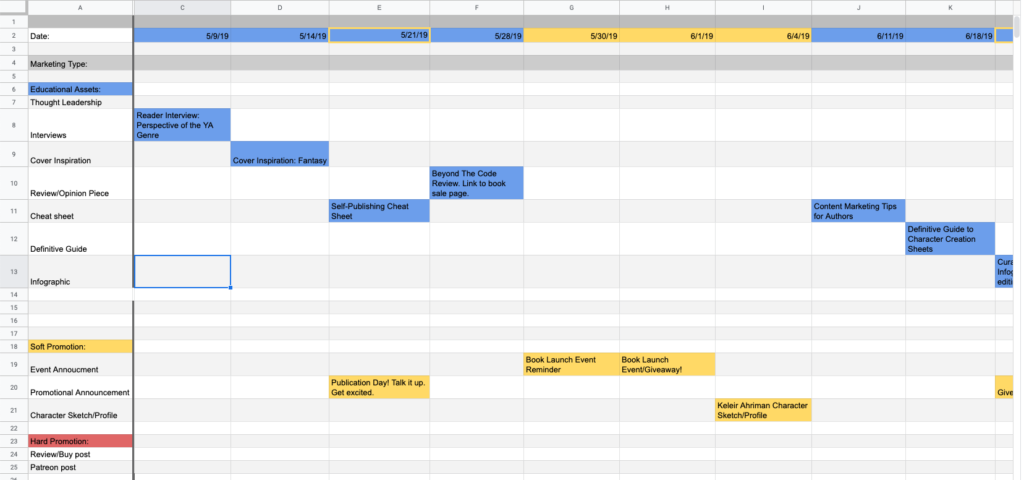 July/August content distribution (still a bit soft and hard promo heavy):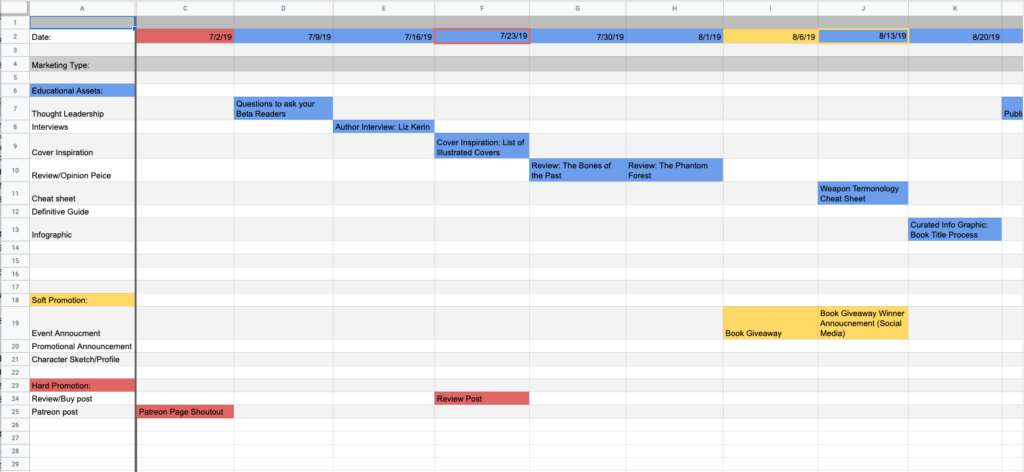 September/October content distribution (recommended):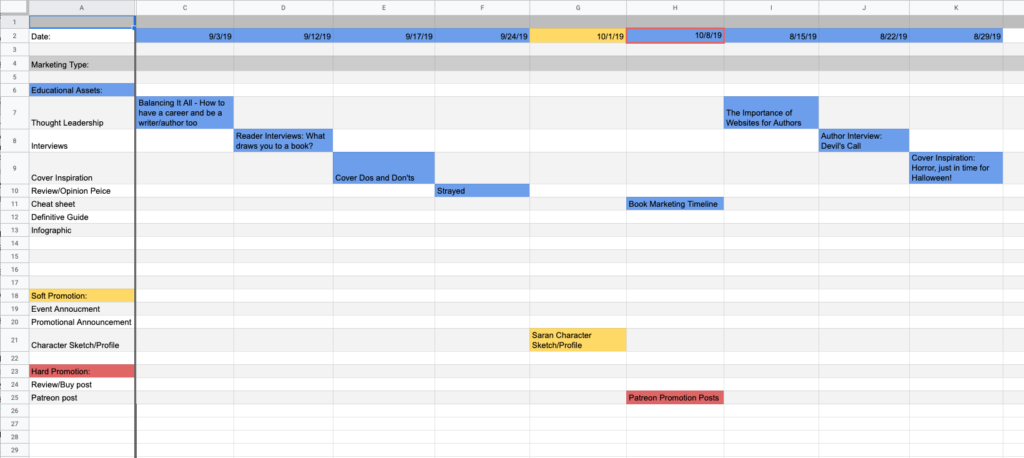 If you look at my calendar dates and see it highlighted one color and bordered by another color, it means I have two types of content going out that day. The highlighted color is the most important, the border color is secondary–most likely social media related. This calendar is a map that helps me stay consistent with content delivery and strategy. It keeps me on the straight and narrow, if you will, about being diligent in my self-promotion.
For your convenience, and to hopefully help you speed up your content marketing strategy and boost your self-promotion (and hopefully your audience), I'm making my template available for download in Microsoft Excel. I recommend uploading it and managing it through GoogleDocs, so your strategy is readily available to edit if you get ideas for content on the fly. 
Download the Content Marketing Calendar Template by clicking here.