You are cordially invited to visit nine different worlds! You won't need to pack a thing; there's no passport or visa required, and all expenses are paid. All you need is one book to transport you.
Passageways is an anthology featuring some of the strongest independent authors writing today, happily playing in the universes they've each built. Running the gamut from fantasy to sci-fi to horror.
This Author Interview Series will focus on the authors featured in Passageways, exploring their individual writing process, world-building, and characters. Passageways gives you a peak into the narratives these authors weave. I aim to give you a peak at the authors themselves.
Over the next 11 weeks, we'll hear from authors Tahani Nelson (The Faoii Chronicles); Brian Fitzpatrick (Mechcraft); R.H. Webster (Rosebud); S.E. Soldwedel (Broken Circles); G.A. Finocchiaro (SCALES); Evan Graham (The Calling Void); Susan K. Hamilton (Shadow King); and Jane-Holly Meissner (The Fae Child Trilogy), curator Mike X Welch (Enantiodromia), and Editor/Publishing Rep extraordinaire from Writing Bloc, Cari Dubiel (How To Remember).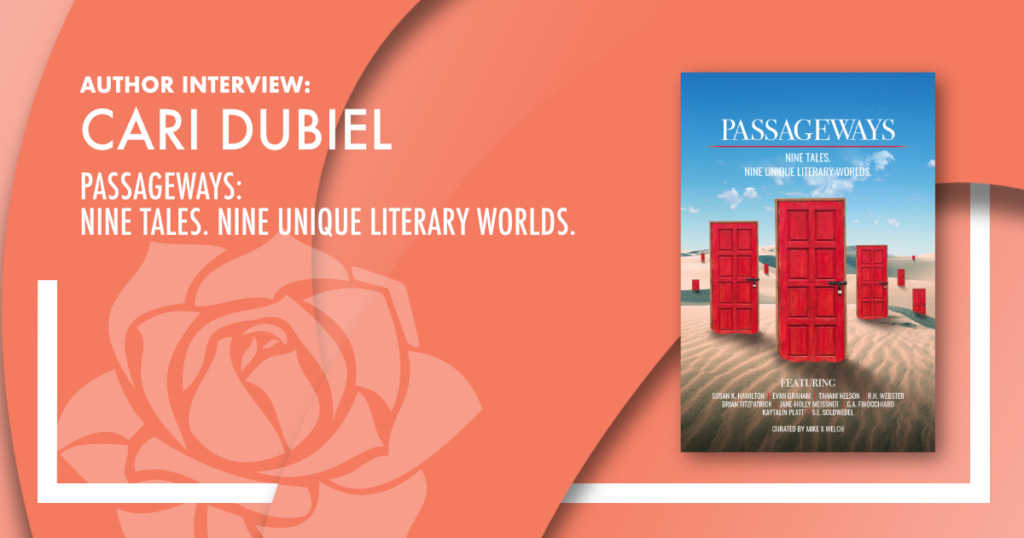 Cari Dubiel juggles writing, librarian-ing, mom-ing, and bassooning in Northeast Ohio. She is the Head of Editing for Writing Bloc and a past Library Liaison to Sisters in Crime. Cari is represented by Lynnette Novak of the Seymour Agency.
Writing Bloc is here to help indie authors by fostering connection and providing the support needed to navigate the often-times-overwhelming world of publishing. Our number one goal? Figure out what is missing in the writing community, and help provide it!
What inspired you and the other members of the Writing Bloc to create such a platform?
Writing Bloc was founded initially by Michael Haase as a way for indie authors to collaborate and share resources. Many writing organizations already exist, of course, including one I am very involved with (Sisters in Crime). But the people who joined together to form Writing Bloc already knew each other from the Inkshares community, and we found we had a lot in common from the get-go. We wanted to be more than a simple Facebook or Slack group – we wanted to help elevate our authors using our resources and talents. We all have day jobs and our own writing, so of course we can't do everything – but lately we've been focusing on our podcast to provide quality content for our writing audience, as well as the publishing arm to bring more awareness to our members' work.

The Writing Bloc publishes original work by its members in the form of anthologies and stand-alone books. Is there ever a plan to open for submissions from others outside the community? How far in the future would you say that might be?
We want our authors to be invested in the community so they have a stake in helping it succeed. However, the community is open to all, and the anthology submissions are a great way to get involved with it. Last year, we didn't publish an anthology that was open to all because of the pandemic. Mike X Welch curated PASSAGEWAYS, and I'm grateful to him for making that project happen. Although I can't predict anything these days, I'm hoping to launch another open call for submissions in spring 2021.
How can writers get involved in the Writing Bloc community or become a member?
All you have to do to join is become a part of our Facebook group, although you do need to answer the approval questions first. If you don't have Facebook, we also have a Twitter account you can follow for opportunities to get involved – @Writing_Bloc. Our website is www.writingbloc.com, and we also have the Indie Writer Podcast at https://indiewriterpodcast.podbean.com/.
I consider you and Mike X Welch to be advocates for other authors. Why do you think it's important to help lift up other authors?
In general, I like helping people – I wouldn't have become a librarian otherwise. I like answering questions and directing people to the resources that will make their lives easier. I've been so grateful to the people who have done that for me, so I have to pay it forward somehow! Plus, every person has a different path, and I like learning about others' lives and helping figure out what solution might be best for them. I do this for librarians too. Also, I'm an author fangirl… I love to read and talk about the books that have affected me personally. So many of the Writing Bloc authors are incredibly talented, and I want to help them get their work out there. My editing goes along with that too – I want that work to shine.
You not only help organize the Writing Bloc, you provide editing and marketing for the works published there. How do you balance your day job with your passions, personal life, and your service to the Writing Bloc?
I'm kind of a workaholic – work helps me feel like a productive member of society – and I'm efficient. I don't want to waste time doing something in an inefficient way. So I have timelines/calendars and project action items for everything, and if I find a better way to do something, I document it so I can save time in the future. I'm upfront and realistic about what I can get done in a given timeframe. This past year has been tough because my social life is basically nonexistent – the Writing Bloc podcasts and community have become part of my social life!
You're also an author yourself. Tell us more about your work.
I write psychological suspense and mystery with a bit of science fiction sprinkled in. Sometimes I dabble in romance and contemporary fiction too. Since I read so much, it's hard for me to commit to one genre. The whole range of ideas, settings, and characters is out there for me to sample. I've been writing since I was little, but most of that stuff will never see the light of day. I didn't get serious until my children were young and I was writing short stories–I was able to sell a few of those. I published a collection, ALL THE LONELY PEOPLE, that was selected for distribution through the Indie Author Project and Library Journal. Then I won the Hugh Holton award from the Mystery Writers of America, Midwest Chapter, for my novel/serial story HOW TO REMEMBER, and signed with my agent a few years later.
2020 was a tough year, but you still managed to be productive and creative. Do you have any advice for creatives who have struggled during the pandemic?
For me, writing and creating was a refuge during a difficult time. We talked about this on our latest podcast, 2021: Ready or Not. Writing helped me escape into a different world. I didn't ignore this one, but I let it fall away for a while. My right brain had a chance to be in charge for once. But I have been through phases of my life when writing hasn't come easily, and my best advice is – don't give up, but also don't let the pursuit of writing consume you. Read more about writing, join a writing group, or read some absorbing fiction. If you're on a deadline, work on your novel's structure or characters, or write some passages and get feedback from a friend. As long as you're moving towards your goal, you're moving forward. 
---
Follow Cari Dubiel on Twitter, Facebook, and Goodreads. Be sure to add her book, How to Remember to your list! You can find more information about Dubiel at her website or by joining her newsletter. More of Dubiel's work can be found at her Amazon Author Page.