You are cordially invited to visit nine different worlds! You won't need to pack a thing; there's no passport or visa required, and all expenses are paid. All you need is one book to transport you.
Passageways is an anthology featuring some of the strongest independent authors writing today, happily playing in the universes they've each built. Running the gamut from fantasy to sci-fi to horror.
This Author Interview Series will focus on the authors featured in Passageways, exploring their individual writing process, world-building, and characters. Passageways gives you a peak into the narratives these authors weave. I aim to give you a peak at the authors themselves.
Over the next 11 weeks, we'll hear from authors Tahani Nelson (The Faoii Chronicles); Brian Fitzpatrick (Mechcraft); R.H. Webster (Rosebud); S.E. Soldwedel (Broken Circles); G.A. Finocchiaro (SCALES); Evan Graham (The Calling Void); Susan K. Hamilton (Shadow King); and Jane-Holly Meissner (The Fae Child Trilogy), curator Mike X Welch (Enantiodromia), and Editor/Publishing Rep extraordinaire from Writing Bloc, Cari Dubiel (How To Remember).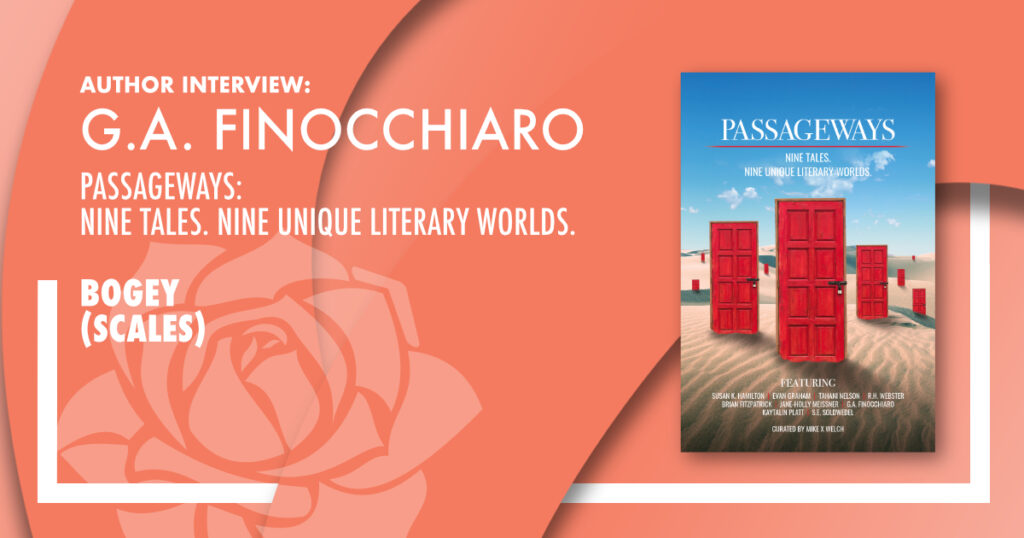 G.A. Finocchiaro was born and raised in South Jersey. He is a self-described goofball with a taste for bad jokes and good burgers. Finocchiaro currently lives in the suburbs of Philadelphia.
About SCALES, the world in which Finocchiaro's short, Bogey, is set: the SCALES universe goes big on otherworldly threats. The intertwined stories tell tales of horrors that leak into our world and the unlikely heroes that rise up to combat them. The Cosmic Scale must always balance: Good and Evil, Positive and Negative Furies, all answer to the Scales and its proprietors, the Fates.
Bogey takes us deep into the jungles of Vietnam. Something sinister lurks in the shadows, praying on the 1st Battalion's 9th Marines. What happens in the jungle must—by all human means necessary—stay in the jungle.
What do readers come away talking about when they close the cover of one of your novels?
I'd like to think two things; 1) that they enjoyed what they read, and 2) that if they read more than one, they start to see common threads building and larger plot, revealing itself.

I always try to mix some humor into my novels. Sometimes it is secondary, but other times I'm actually trying to make the reader laugh. Comedy is hard, and I hope I manage to get a few smiles from cover to cover.

To me, if you can fall in love with one of my characters after reading about them on a page, then I've done my job. It is important to me that the reader can feel something for an imaginary person. If I've done that, I'm happy.
What inspired the world of SCALES?
It slowly developed over time. At first it was an interest to have two characters exist in the same world. Then I decided it was something more and began building a larger mythology.

Mythology is probably my biggest influence. I love reading those old tales, and the simplistic way they saw the world was beautiful. At some point I stumbled across Lovecraft, probably years after I should have discovered his works, and I fell in love with his monsters and their worlds.

Stephen King's Dark Tower series was another influence. I loved how he had this whole other series that when connecting the threads, built into a master story. I decided early on that I wanted to do that too.
How does Bogey connect within the SCALES universe?
Bogey is an origin story for one of the major characters in my universe, Father John Monaco. I wanted to tell the story about how this priest got wrapped up in this larger-than-reality story about good, evil, and an even more disturbing evil lingering beyond the edges of our dimension. He plays a major role as the universe unveils itself to readers.
What themes do you enjoy exploring in your work? Since it's an anthology, are there multiple themes or a central one?
I like to explore many themes. One that always comes up is that even the villains are the heroes of their own story. I love the idea that they have purpose, and they became this person for a reason.
I also like to tell coming of age stories. I find youthful protagonists to be a fun way to bring the reader into my world.

Lastly, I really enjoy writing about friendship and love. The SCALES universe really does have a sappy, love side to it, about lost souls and those striving to connect. The friendships we'd die for, and the love we'd do anything to live for.
2020 was a tough year, but you still managed to be productive and creative. Do you have any advice for creatives who have struggled during the pandemic?
Tune everything out. Turn off the TV. Stop doom scrolling through facebook and twitter. Put yourself in front of a word processor or a pad of paper, and write. Even if it's bad, just write. Put words on paper, and if you're not feeling it, write something else. Even tip-toeing forward is still moving forward.
---
Follow Finocchiaro on Twitter and Goodreads. Be sure to add his book, Grace Falls to your list! You can find more information about Finocchiaro at his website. More of Finocchiaro's work can be found at his Amazon Author Page.