ou are cordially invited to visit nine different worlds! You won't need to pack a thing; there's no passport or visa required, and all expenses are paid. All you need is one book to transport you.
Passageways is an anthology featuring some of the strongest independent authors writing today, happily playing in the universes they've each built. Running the gamut from fantasy to sci-fi to horror.
This Author Interview Series will focus on the authors featured in Passageways, exploring their individual writing process, world-building, and characters. Passageways gives you a peak into the narratives these authors weave. I aim to give you a peak at the authors themselves.
Over the next 11 weeks, we'll hear from authors Tahani Nelson (The Faoii Chronicles); Brian Fitzpatrick (Mechcraft); R.H. Webster (Rosebud); S.E. Soldwedel (Broken Circles); G.A. Finocchiaro (SCALES); Evan Graham (The Calling Void); Susan K. Hamilton (Shadow King); and Jane-Holly Meissner (The Fae Child Trilogy), curator Mike X Welch (Enantiodromia), and Editor/Publishing Rep extraordinaire from Writing Bloc, Cari Dubiel (How To Remember).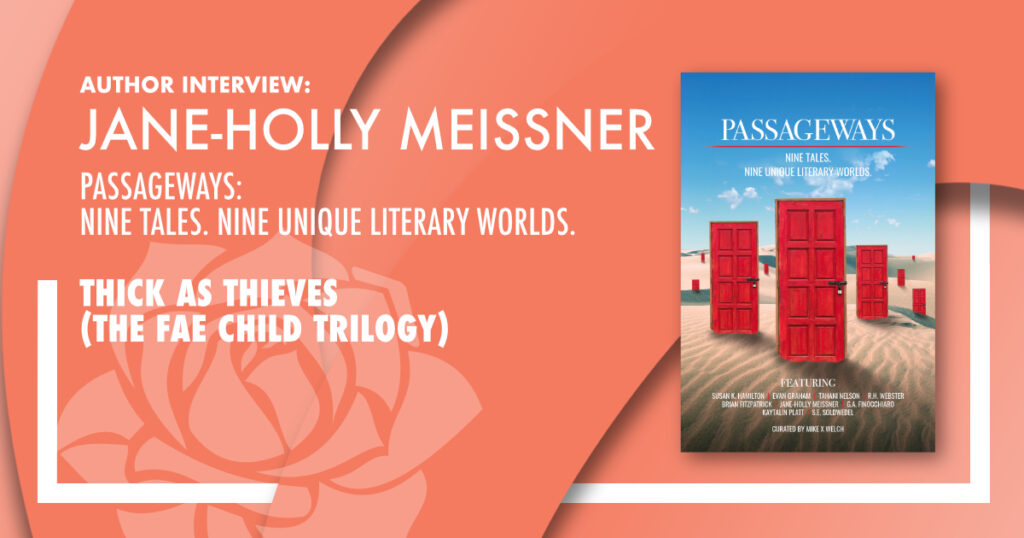 Jane-Holly, an Oregon based writer, has been scribbling stories into notebooks and online for most of her life. She squeezes in time for her four kids, date nights at the movies with her husband, and explaining her first name to everyone she meets. She believes that, if creativity is directly correlated to how messy your house is, she might just be one of the most creative people on the planet.
About The Fae Child Trilogy, the world in which Meissner's short, Thick as Thieves, is set: The Otherworld is a land just beyond ours, the world of the Fae—elves, werewolves, pixies, trolls, and goblins. Its two kingdoms, Summer and Winter, have coexisted for millennia. The peace between them is carefully crafted and maintained by unbreakable magical bargains. With the introduction of a single wildcard—a young human girl from our realm who finds herself trapped in the Otherwrold—this peace is tested.
Thick as Thieves transports us to Otherwold, where we learn the backstory of Fae Child's most intriguing partnership: Nadiene, the shapeshifter and thieftaker, and Charles, the lone human adventurer with the brand of a freed slave on his chest. Together they forge an uneasy alliance and work to track Nadiene's quarry.
The first book in your Fae Child Trilogy was just released. What has been the overall consensus from readers? What have they come away saying about your novel?
Overall the reception for Fae Child has been good! Most readers are calling it "magical" and a sweet adventure story for all ages. I have heard some complaints that it's too short, though, so I'm working on making sure book two is a better length.

The Fae Child Trilogy follows a central character, growing along with her from childhood into young adulthood, am I correct? What inspired you to tell such a story?
I love stories about kids tackling big adventures, and I love series that span a character's life from child to young adult. I knew I had a story of Abbie going to the Otherworld by accident as a child. That made me want to tell the story of her going back, on purpose, as a teenager. In one she's seeing everything from a child's perspective. The glances between adults that she couldn't parse when she was eight, unaware of the depth of the danger she was in… in book two, The Furious Host, she's more mature and able to see more layers to the Otherworld. It's a deeper, more dangerous trip for Abbie, and she gets to meet up with her friends from the first book, now as a young woman. It changes all the dynamics in a delicious way, and I can't wait for it to be finished.
Then, of course, is book three, where Abbie will have even more ability and responsibility. She becomes a worlds changer over the course of the trilogy and I hope people enjoy the journey as much as I do.
How does Thick as Thieves connect in the Fae Child universe?
Thick as Thieves follows two characters from Fae Child. Nadiene and Charles are adults who meet Abbie in the Otherworld and decide to help her on her journey home. The short story takes place years before Fae Child, before the two friends met. Nadiene is a thieftaker (kind of like a bounty hunter) in the Otherworld, and she comes across Charles in the woods while she is tracking down other prey. It's the story of how they started working together, and I hope the fun chemistry they have together comes through in the story.
What themes do you explore in your work?
I find that friendship and family are two of the major themes that run through my writing. I love writing all sorts of genres, but whether you're in a land of elves or flying in a spaceship, family (biological and found) is universal.
2020 was a tough year, but you still managed to be productive and creative. Do you have any advice for creatives who have struggled during the pandemic?
To be honest, I haven't been that productive this past year. Writing the Thick as Thieves short story and completing the edits for Fae Child was about as good as it got. So I'd advise my fellow strugglers to be gentle with yourself. Some people can channel stress into creativity and others can't. There's no shame in that.
But also I know that getting up early and setting aside an hour or two to be alone with my computer really helps. And write what you want to write! If you're having trouble with "novel writing" take a break and write some fan fiction, or a new story idea. Get those creative juices flowing again. Just try to stay off Twitter while you do. 😉
---
Follow Meissner on Twitter, Facebook, and Goodreads. Be sure to add her book, Fae Child to your list! You can find more information about Webster at her website and more of her work at her Amazon Author Page.