You are cordially invited to visit nine different worlds! You won't need to pack a thing; there's no passport or visa required, and all expenses are paid. All you need is one book to transport you.
Passageways is an anthology featuring some of the strongest independent authors writing today, happily playing in the universes they've each built. Running the gamut from fantasy to sci-fi to horror.
This Author Interview Series will focus on the authors featured in Passageways, exploring their individual writing process, world-building, and characters. Passageways gives you a peak into the narratives these authors weave. I aim to give you a peak at the authors themselves.
Over the next 11 weeks, we'll hear from authors Tahani Nelson (The Faoii Chronicles); Brian Fitzpatrick (Mechcraft); R.H. Webster (Rosebud); S.E. Soldwedel (Broken Circles); G.A. Finocchiaro (SCALES); Evan Graham (The Calling Void); Susan K. Hamilton (Shadow King); and Jane-Holly Meissner (The Fae Child Trilogy), curator Mike X Welch (Enantiodromia), and Editor/Publishing Rep extraordinaire from Writing Bloc, Cari Dubiel (How To Remember).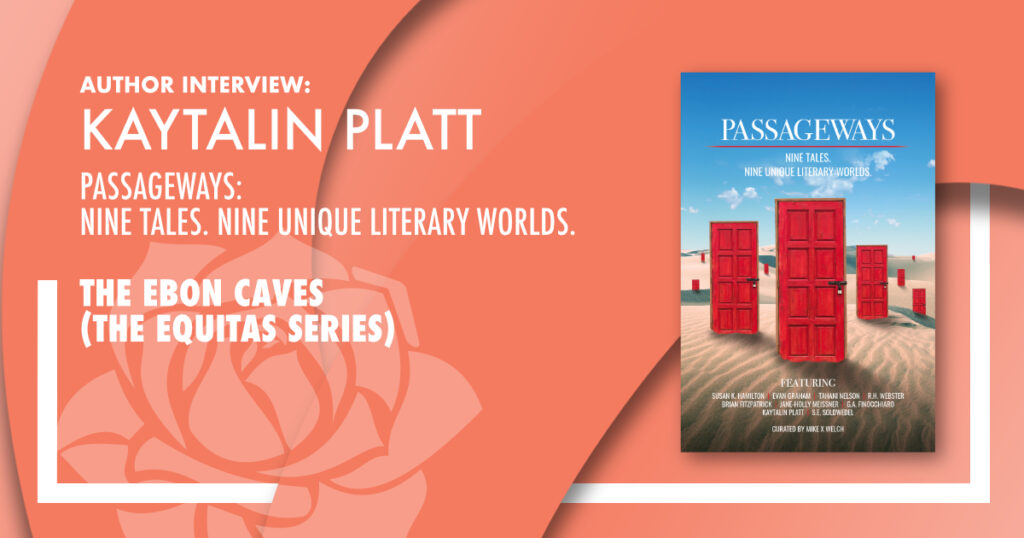 Mike X Welch was kind enough to provide questions for me, so I didn't feel like such a narcissist by interviewing myself. Thanks, Mike!
Platt is an author and graphic designer living in Philadelphia, Pennsylvania. Raised in Deer Park, Alabama—a rural town north of Mobile—Platt enjoyed spending time in the surrounding woods and working on the family farm. Platt's mother contributed heavily to her passion for writing. They would listen to instrumental music, film scores mostly, and she challenged Platt to write down what she imagined happening as the music played. Platt's love of music and writing only grew, and she began work on her first full-length novel during college. She worked on the novel, writing and rewriting, for nearly a decade before submitting it for publication in 2016. The Living God, Platt's debut novel, was published in May 2019. Currently, Platt is working on the followup to The Living God, and experimenting with stories on Wattpad—a reading platform home to over 80 million users.
About The Equitas Series, the world in which Platt's story The Ebon Caves is set: Platt's Fantasy/Science-Fiction series features world-hopping, elemental Mages working to stop an Oruke, an otherworldly monster, from wiping out humanity. Time Mage Saran has imprisoned an Oruke inside Keleir Lifesbane, a powerful Fire Mage who doubles as her close ally and love interest. This Oruke wants nothing more than to burn Keleir out of his body and use it to open a portal between worlds, collapsing them into one perfect, hellish place for its kind..
Platt's tale gives us insight into the early days of Saran and Keleir's burgeoning relationship. Their adventure in the 'Ebon Caves' was mentioned in passing in Platt's first novel, The Living God. 
What do readers come away talking about when they close the cover on one of your novels?
The Living God is very much a character-driven novel. I receive a lot of compliments on the characters, and discussion over fan favorites. What I love is that a lot of people enjoy the minor characters and root for them just as much as the three major ones. Most of the people who read it point out that it shouldn't be categorized as YA, and I agree. That was a move by the publisher that I didn't agree with. Another note is that it is often described as cerebral and I haven't yet figured out if that is good or bad, haha.

Folks might not know, but you designed the cover art for PASSAGEWAYS. How did you come up with such amazing colors and images, and were there any other concepts you considered other than the one you chose?
I thought about the concept of Passageways. Early on in cover discussions, when members of the anthology were describing what they thought about the cover, there were a lot of mentions of doorways and portals. I think you made a mockup of a cover with doors as well, and steps leading up to them.

I thought of a place, a central location void of information which would provide access to other worlds. This place became a desert in my mind, dry and without direction save these 9 access points.

I knew I wanted to use doors. Portals or magic gateways are neat, but they can be too ethereal to some people and 9 of them would be too busy. I wanted to create a surreal landscape that would be inviting to anyone, even if they've never picked up a science fiction or fantasy or horror novel before. My goal was to create a cover that would attract anyone, and maybe provide the "gateway drug", so to speak, to someone who hadn't really ventured into genre fiction before and wanted to test the waters.

As for the color, I'm a graphic designer by trade, and I've taken my share of color theory classes. I've also done a lot of research on the psychology of color. Red is one of the most visible colors in the color spectrum. It instantly grabs the viewer. It has the ability to trigger hunger, feelings of power, dominance, and passion. Shades of blue are complementary to certain shades of red, so it worked well with the neutral sand and pale blue of the sky.
How does The Ebon Caves connect in the Equitas Series universe?
The Ebon Caves is a prequel of sorts. It's mentioned in passing in Chapter 13 of The Living God. It's the specific moment in time where Saran chooses to be Keleir's keeper, no matter the cost.
What themes do you explore in your writing work? Similarly, are there any bread crumbs that you leave in your design work, or are they all utterly unrelated thematically?
I like to explore themes of perseverance, destiny, failure, and cost—and how those things affect people emotionally and physically. Life is full of failure and, should you succeed, there is always a price. Nothing in life is ever free, and if it's free it's never usually worth it. It's full of believing we should have done something or achieved something and never quite making it or it never being what we imagined. Even when my character's win, there is always a cost for that win and an emotional reckoning for it. The larger the win, the higher the price. I think this has a lot to do with how I grew up. Poor farm girl watching my parents struggle to pay bills. Everytime it seemed like we had a leg up, something came along to knock us back down. It always felt like we had to pay for a moment of smooth sailing with our power being turned off or a heart attack or a crushed spleen from a bull attack. My life was living and waiting for the other shoe to drop, and I carried that into my writing.

As for my designs, they are usually unrelated thematically. I create based on the information I receive from clients or project briefs. My art on the other hand, has, for the most part, had an… essence to it. I wouldn't call it a theme. Every painting was different but they always had a… feel to them, I'd say. A style, which was often very macabre. I unfortunately don't have much time to paint anymore, and I truly miss it.

My mother-in-law likes to joke about my writing and art that if she hadn't gotten to know me first before reading my work or seeing my paintings, she might have been very scared of me.
2020 was a tough year, but you still managed to be productive and creative, AND become a first time parent. Do you have any advice for creatives who have struggled during the pandemic and/or with remaining creative with the addition of a little one in their lives?
2020 was hard creatively because I was dealing with a lot of existential dread related to the pandemic and extreme exhaustion due to the pregnancy. Whenever I would start to do anything creative or take in creative information, like reading or TV shows, I would be asleep within a few minutes. That's not a knock against anyone's writing or directing, I just had absolutely no energy. But, I'm a hyper-productive person by nature. I need goals. I need to complete projects to feel fulfilled by life.
Passageways was the perfect motivator and the perfect puzzle piece to what was missing in my life during 2020. It made me focus on something other than the world burning down around me, or the aches and pains and sleeplessness I was dealing with during the pregnancy. It was the hardest short story I have ever written. Short stories are not my forte at the start. They usually turn into novels because I haven't really gotten the hang of condensing ideas. But aside from that, I was tired and unfocused. I had all the inspiration in the world, but couldn't seem to draw from it when I sat down. But one week I sat down and wrote. I wrote and wrote and wrote and rewrote and it was the best thing for me. I just had to make time. I had to talk myself up to it, and it worked.
My daughter is four months right now and I don't have an answer to how to explore being creative with a little one. The answer right now seems to be, "Invite Grammy over", haha. I hope to explore an interview series in the near future with creatives who are also parents.
---
Follow me on Twitter, Instagram, and Goodreads. Be sure to add The Living God and The Ever War to your TBR list!