You are cordially invited to visit nine different worlds! You won't need to pack a thing; there's no passport or visa required, and all expenses are paid. All you need is one book to transport you.
Passageways is an anthology featuring some of the strongest independent authors writing today, happily playing in the universes they've each built. Running the gamut from fantasy to sci-fi to horror.
This Author Interview Series will focus on the authors featured in Passageways, exploring their individual writing process, world-building, and characters. Passageways gives you a peak into the narratives these authors weave. I aim to give you a peak at the authors themselves.
Over the next 11 weeks, we'll hear from authors Tahani Nelson (The Faoii Chronicles); Brian Fitzpatrick (Mechcraft); R.H. Webster (Rosebud); S.E. Soldwedel (Broken Circles); G.A. Finocchiaro (SCALES); Evan Graham (The Calling Void); Susan K. Hamilton (Shadow King); and Jane-Holly Meissner (The Fae Child Trilogy), curator Mike X Welch (Enantiodromia), and Editor/Publishing Rep extraordinaire from Writing Bloc, Cari Dubiel (How To Remember).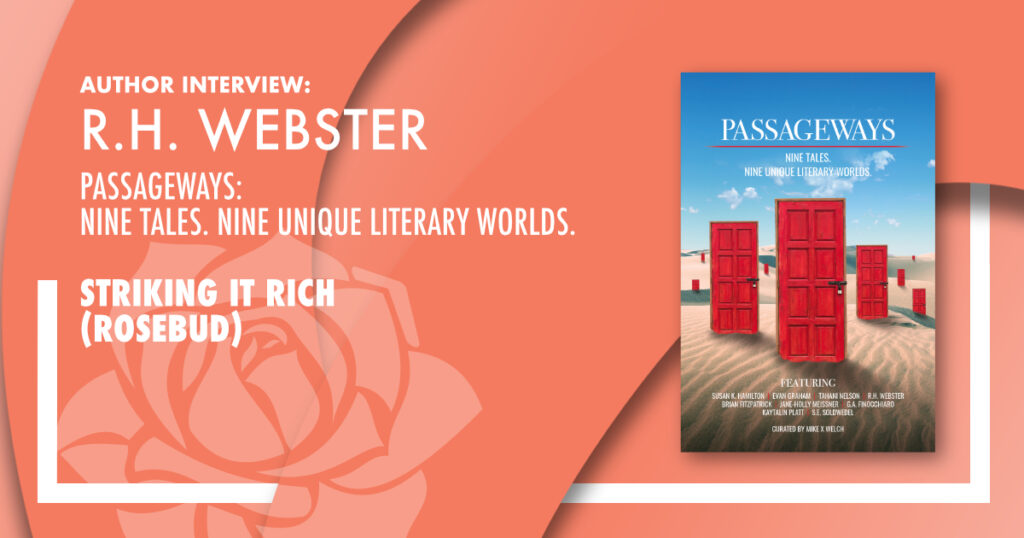 RH Webster grew up in rural Alabama, reading everything she could get her hands on. She started writing her first novel at the ripe old age of 13, and while that particular work remains incomplete, she never lost the dream to one day become a novelist.
She now lives in sunny El Paso, Texas, with her other half and two adorably demanding rescue terrier mix puppies, Charlie and Rosie. She released her first novel, Lucky, in 2018 and the sequel, Striking It Rich, in 2020. Both are available in paperback and ebook wherever books are sold, and as audiobooks from Audible.
About Rosebud, the world in which Webster's short, Nil Bid, is set: Webster's space opera takes place in the distant future. Humanity is stretched across the Milky Way, and earth is the seat of a large colonial authority. Commerce between these far-flung outposts and worlds requires the services of freighters. The Rosebud is such a vessel, and there is no shortage of interesting characters among the passengers and crew.
Nil Bid stars Lucan Wright, a character from Webster's second book, Striking It Rich. With nothing more than his freedom to bargain with, Wright attempts to return to Earth to visit his mother's deathbed. As they often do for Lucan, things go sideways fast.
What do readers typically come away talking about when they've closed the cover of a Rosebud novel?
The characters! I approached these stories with a desire to write about characters that you felt like you might know or see at the grocery store, and I've found that my readers have really responded to them. I had planned to kill someone at the end of Striking It Rich and I ended up with a rebellion on my hands from my beta readers, who without fail messaged me with threats of "I'll come over there and punch you if you hurt my friends."
I'm a huge fan of space operas, so I look forward to reading more of your work. What inspired Rosebud and your cast of characters?
The first novel started as an attempt to stay awake on a long drive from far west Texas to Alabama. On the interstate, the drive can take over 20 hours. I only had a few country music CDs and my own imagination to keep me entertained in between dodging long-haul 18-wheel trucks. I began to imagine a universe where humans had spread not just across entire continents, but across the galaxy. There would still be a need for long haul freight to bring supplies to the far flung settlements. By the time I got to Alabama, I had the beginnings of a story scratched out on napkins: the freighter Rosebud, named for the Yellow Rose of Texas, and her crew of hard-working civilians that just want to finish their jobs and get paid, but ultimately end up getting pulling into an adventure.
Nil Bid centers around a pre-established character from your other novels. How does it connect with the others? Or how does it fit within the timeline of your universe?
"Nil Bid" takes place after the first two books in the series, Lucky and Striking It Rich. After the end of Striking It Rich, I realized that I hadn't gotten to explore Lucan's character and interactions as much as I wanted to, so I wrote this story as a stand alone short that would feature more of his story. I had so much fun writing it that I am planning for him to be a major part of my eventual (and as of yet untitled) Book 3.
What themes do you explore in your series?
I find that themes of economic difficulties sneak into my pages, whether I mean for them to or not. Trigg and the rest of the crew of the Rosebud are just normal people, trying to make ends meet in a galaxy that isn't fair. They aren't the Chosen Ones, the wealthy or the elite; they're not part of some greater cause (yet…perhaps this will change in the future?). Because of this, I also frequently explore themes of interpersonal relationships: trust, love, betrayal, hurt. The crew of the Rosebud are cooped up in a small space together for weeks on end, they have to find a way to get along without too much problem. As the stories progress, they will become closer and more like a family.
2020 was a tough year, but you still managed to be productive and creative. Do you have any advice for creatives who have struggled during the pandemic?
Be kind to yourself! I spent several months berating myself for not writing more since I had all this extra time on my hands, but the fact of the matter is that 2020 was emotionally and psychologically difficult for a myriad of reasons. Just because I wasn't on the front lines of the pandemic didn't mean that there were no stressors in my life damaging my creativity. So I began to focus on self-care steps, like cleaning out those closets I'd been ignoring or taking a little more time to walk my dogs, and I found that my creativity began to return, albeit slowly.
So if you feel the need to alphabetize your spice drawer, or organize your socks by color and type, take the time to do that. Bask in that little bit of progress, then let your creativity flow from your positive feelings.
---
Follow Webster on Twitter, Facebook, Instagram and Goodreads. Be sure to add her book, Lucky to your list! You can find more information about Webster at her website and more of her work at her Amazon Author Page.