You are cordially invited to visit nine different worlds! You won't need to pack a thing; there's no passport or visa required, and all expenses are paid. All you need is one book to transport you.
Passageways is an anthology featuring some of the strongest independent authors writing today, happily playing in the universes they've each built. Running the gamut from fantasy to sci-fi to horror.
This Author Interview Series will focus on the authors featured in Passageways, exploring their individual writing process, world-building, and characters. Passageways gives you a peak into the narratives these authors weave. I aim to give you a peak at the authors themselves.
Over the next 11 weeks, we'll hear from authors Tahani Nelson (The Faoii Chronicles); Brian Fitzpatrick (Mechcraft); R.H. Webster (Rosebud); S.E. Soldwedel (Broken Circles); G.A. Finocchiaro (SCALES); Evan Graham (The Calling Void); Susan K. Hamilton (Shadow King); and Jane-Holly Meissner (The Fae Child Trilogy), curator Mike X Welch (Enantiodromia), and Editor/Publishing Rep extraordinaire from Writing Bloc, Cari Dubiel (How To Remember).
---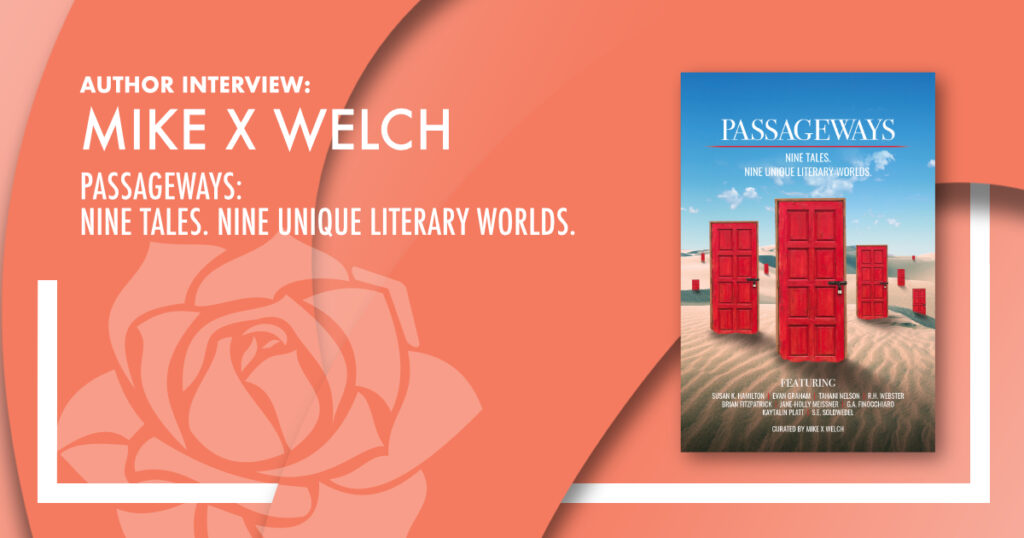 Mike X Welch is first up in our Passageways Interview Series. He's the curator and mastermind behind Passageways: Nine Tales. Nine Unique Literary Worlds.
Mike X Welch was born in Wilson, NY, and started writing fantastical fiction as soon as he could hold a crayon. After 25 years living west of the Mississippi, he resides in Newfane, NY with his wife, the author/actress/educator Aly Welch and their twin boys Dieter & Xander. Mike's adult daughter Alex resides near Seattle, WA. Mike pays his bills by providing IT Support to happy customers.
How was the concept for the Passageways: Nine Tales. Nine Unique Literary Worlds. Anthology formed?
In the 1990s, I 'interned' with an independent record label. Of the many things I learned there, I was shown how music compilations accomplish multiple goals. One, they sold well and were cheap to put together/produce. Two, they showcased music from artists or even genres that some listeners weren't familiar with. That, in turn, drove sales to those artists, benefiting the record label. I figured out long ago – mostly during that mid-90s time spent in music – that one of my strengths was to take a look at the folks surrounding me in the 'room,' and then figure out how to leverage both their creativity and talent, marry that to my networking and people skills, and come up with a product that excited both everyone in that 'room' and appealed to the market that we were aiming at. Passageways is the logical extension of that philosophy, but applied to literary circles. To expand on that, these authors are more than capable of getting their writing into anthologies, but I specifically wanted to showcase the universes that they worked so hard to establish and nurture. And when you let a kid play in their own backyard, you get a kid who is much more comfortable and does some of their best work. All one needs to do is look at how popular various series of books are now, versus standalone novels. If you're good at world building, people will relish every chance possible to visit there. I wanted to provide the way to get there.
I consider you to be someone who heavily advocates for the creatives in your circle. You yourself are an author, yet you do not have a story in Passageways. It could have easily been an opportunity to push your own voice, but you chose to create a platform to amplify others. How important do you think it is that we help/support the other authors in our lives?
Everything I tend to do stems from a desire to showcase up and coming, indie artists…both back in my music days and now with projects in the writing world. I love Stephen King and Anne Rice, but they absolutely do not need my help getting their name out there. But the Tahani Nelsons and Susan K. Hamiltons of the world do. My approach tends to be 'Wow, look at how amazing this piece of art is. It's remarkable to me that more people don't know about it. What can I do to help raise their profile?' Originally, I had planned to showcase both mine and my wife's (Aly Welch) writing in this anthology, but once the theme of 'existing literary universes' became cemented, I realized that neither of us had established ours yet. I had to recuse us both. Which wasn't a problem for me, but I don't suggest recusing your wife from something you previously invited her to if you want to remain happy! I'm joking, she easily brushed it off and continued working on her debut collection, Silly Little Monsters, which actually released a few months before Passageways. To directly answer the question—it's of the highest importance to support the authors in our circles; the only reason I care about getting my name known is so that more people will listen when I mention an author's name, and support/showcase their work.
What were the challenges in organizing an anthology?
The logistics, I guess. Keeping track of what needed to be where when, the initial pitch to Cari/Writing Bloc (which turned out to be super easy, because Cari's awesome). Holding everyone's feet to the fire with deadlines, etc. That said, I didn't really consider any of it challenging, both because this sort of Project Management is very much in my wheelhouse, but mostly because everyone involved was amazing to work with. I served as a sort of 'developmental editor' for the stories during their early phases. But when you do something you love, it's hard to call any of it work, honestly.
Have you any concepts for another, or do you plan on curating more multi-author anthologies in the future?
Yes, yes and yes! While I feel that anthologies should stick to the 'keep it simple' model when it comes to themes – which incidentally made me nervous about Passageways because it requires explanation of the theme for it to 'land' correctly – I do like the idea of variety when it comes to a collection of stories. For example, I don't know that I would want to curate something that involves ten authors writing their take on a zombie story. And that sort of thing might very well sell, but it doesn't interest me. And maybe this is a contradiction, but having a loose theme like 'dystopia' works for me. I saw a call for stories once where it was so specific – three characters, two had to perish in the night, one had to survive to dawn, you had to make the outside threat be the problem, etc…and while that'd make a great story, I can't imagine wanting to read ten stories with that structure in a row. You have to figure out when too much of a good thing is…too much. I do plan on Passageways being a regular annual or bi-annual thing…we'll see if the sales and wellspring of talent I have to work with can bear that out. And I think the theme for the Passageways series should remain the same; tales set in an author's specific universe of their own creation…but I think there's room to play in there. A Horror themed Passageways. A Space Opera themed Passageways, etc. You, Kaytalin, for example, write magical fantasy, but there's a ton of romance interwoven. If you stick to just one genre in your writing, you're selling everyone short – drama without any comedy is too dry, for example. And I know what most of the authors I want to work with are capable of, so if I went to Tahani Nelson and said 'Okay, I want a Faoii story, but it needs to be a romance.' Or went to S.E. Soldwedel and said 'I need a slasher movie story, but set in the Broken Circles universe.' I know these guys are capable of doing this sort of creation. Whether they would agree is another thing entirely…
Tell us a bit about your own personal writing work?
My novel project, The Vampire and the Dragon (PrOOF vol. 1) is very much in dry dock. And I beat myself up about that for a long time, until I allowed myself to gently put it aside and try something else. What I came up with were the five stories that appear in my horror debut ENANTIODROMIA – collected stories. While I haven't gotten nearly enough reviews, all of them have been overwhelmingly positive. The book was a finalist for the 2020 Whirling Prize from the University of Indianapolis, and was also named to TONY'S TOP HORROR COLLECTIONS AND ANTHOLOGIES OF 2020 on the gingernutsofhorror website, which is actually more of a compliment than it sounds. I've submitted the lead story, 'Turning of the Bones' to the 2020 Launch Pad competition, so we'll see how that shakes out. I'm also circling around the idea of expanding 'Turning of the Bones' into a novel length work. Writing wise, I've written a bit of a new sci-fi themed collection of short stories, and I'm currently working on a tragicomedy that involves two doomed bastards who dug Attila the Hun's grave, and then were put to death immediately after to keep the location a secret. My writing is peppered throughout Passageways, as I wrote mostly all of the forewords to each individual story, so it was a tiny bit of a creative project for me more so than just a full business venture.
2020 was a tough year, but you still managed to be productive and creative. Do you have any advice for creatives who have struggled during the pandemic?
In a fairly unoriginal sense, my advice would be to do something similar to what I did; if you yourself can't write, then assist someone else with a project. Hell, I basically emailed ten of my author friends and gave them a six month homework assignment. Only one of them had the sense of self-preservation to say they were too busy! I bet if you asked each one of them whether or not it was a good or a bad thing to be asked to do something, they'd all answer that it was some of the best use of their creative time they could imagine. It never hurts to ask people for things, unless the worst thing in the world for you is hearing 'no.' I'm a NY'er, so hearing 'no' from someone is like a kiss compared to some of the other responses I could get.
---
Follow Mike X Welch on Twitter and Goodreads. Be sure to add his book, ENANTIODROMIA to your list! Check out my review of it here. More of Welch's work can be found at his Amazon Author Page and his website.