You are cordially invited to visit nine different worlds! You won't need to pack a thing; there's no passport or visa required, and all expenses are paid. All you need is one book to transport you.
Passageways is an anthology featuring some of the strongest independent authors writing today, happily playing in the universes they've each built. Running the gamut from fantasy to sci-fi to horror.
This Author Interview Series will focus on the authors featured in Passageways, exploring their individual writing process, world-building, and characters. Passageways gives you a peak into the narratives these authors weave. I aim to give you a peak at the authors themselves.
Over the next 11 weeks, we'll hear from authors Tahani Nelson (The Faoii Chronicles); Brian Fitzpatrick (Mechcraft); R.H. Webster (Rosebud); S.E. Soldwedel (Broken Circles); G.A. Finocchiaro (SCALES); Evan Graham (The Calling Void); Susan K. Hamilton (Shadow King); and Jane-Holly Meissner (The Fae Child Trilogy), curator Mike X Welch (Enantiodromia), and Editor/Publishing Rep extraordinaire from Writing Bloc, Cari Dubiel (How To Remember).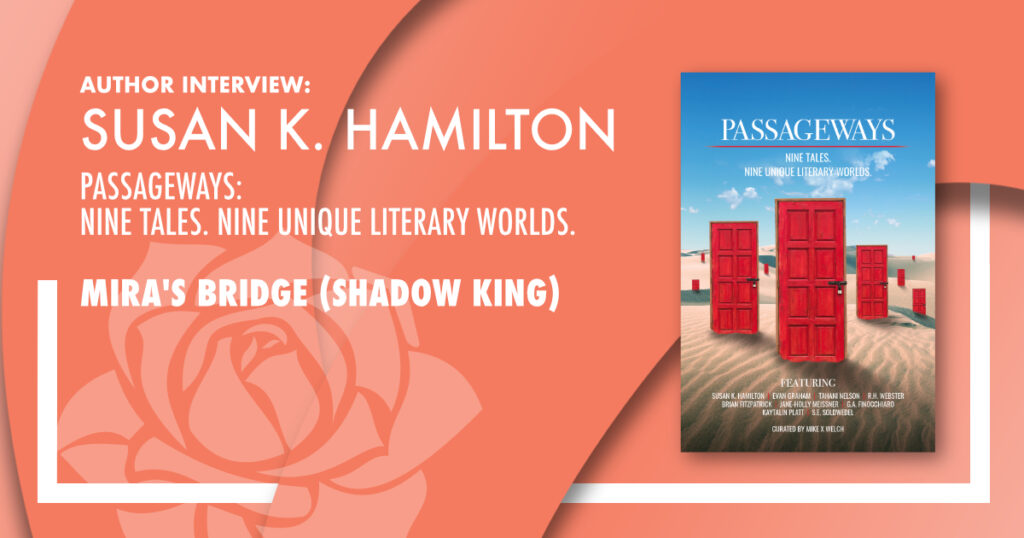 Susan K. Hamilton is the award-winning author of epic, dark, and urban fantasy books including Shadow King, Darkstar Rising, and The Devil Inside (releasing Spring 2021). Her short stories have been featured in the ESCAPE!, DECEPTION!, and Passageways anthologies from Writing Bloc.
Horse-crazy since she was a little girl, she also loves comfy jeans, pizza, great stand-up comedy, and pretty much every furry creature on the planet (except spiders). Susan lives near Boston with her husband and a cat who runs the house like a boss.
About Shadow King, the world in which Hamilton's short, Mira's Bridge, is set: Centuries ago, the destruction of the Faerie Realm forced the mythical faerie races to flee to the Human world. In modern-day Boston, Dark Fae—led by the enigmatic Aohdan Collins—rule the city's criminal underworld, and a Fae Seer must decide if revenge is worth betraying the ones she loves.
Mira's Bridge, the story featured in Passageways, revolves around Mira, a young Selkie, as she searches for a way to break a human gangster's grip on her grandfather's business.
What do readers come away talking about when they close the cover on one of your novels?
Hopefully the first thing is that they tell people how much they enjoyed it!

Beyond that, I hope they talk about the characters. As writers we are all very deeply invested in our characters–we love them–and I hope my readers get just as invested as I am. I hope they cheer the characters on, or get mad at them when they make dumb decisions, or worry when the character is in a difficult spot.
I've interviewed you once before about your inspiration for Shadow King. It came while you were contemplating NANO and doing yard work. Good things are often born from a short turn of manual, repetitive labor. After the initial character of Aohdan Collins was formed, how long was it before the other characters fell into place?
Not too long. Once I had an idea of who Aohdan was, I started thinking about the type of people he would surround himself with—and be attracted to. I think the next two characters who came into clear focus were his best friend, Oisin, and the Fae Seer, Seireadan.

After that, the rest of Aohdan's crew started to take shape and Rory, Galen, and Kieran started to make their voices heard.

What I found interesting was as the story progressed, it became much more about Seireadan and Aohdan, than just about Aohdan.
How does Mira's Bridge connect in the Shadow King universe?
Mira's Bridge takes place about ten years before Shadow King. At the start of Shadow King, characters learn about another gangster—Artie Devlin—who is Aohdan's nemesis. As Mira struggles with Artie's grip on her family's business, readers get some insight into the antagonistic relationship between Artie and Aohdan.
What themes do you explore in your work?
In general, I really like to explore the idea that people are not wholly good or evil. We all know people who are fundamentally good people but make bad decisions or go down dark roads. Good people can do bad things and vice versa.

I also find the concepts of loyalty and friendship tend to thread through my stories. Readers will likely see all of those in Mira's Bridge and Shadow King.
2020 was a tough year, but you still managed to be productive and creative. Do you have any advice for creatives who have struggled during the pandemic?
That's a really good question, and I'm not sure I have a good answer.
I have advice, but people are in so many challenging situations… it is easy for me to say try to keep a routine, and guard a little time for you to do something creative. But I don't have kids in the house, and what works for me may not work for others. I know many of my friends have struggled because they are working, helping to school their children, maybe having to help older parents. And that has consumed their time and stressed them out because they feel like they have no down time and no privacy.
What I will say is this: don't consider yourself a failure if your writing or other creative endeavors slip a little. We are all in a really hard situation. Be kind to yourself — but stay open to opportunities. Maybe this is a time to try a different kind of creativity: if your kids do art projects, do it with them. Paint something. Decorate something. It might not be the exact kind of creativity you were looking for, but it is an outlet. You never know what you might discover about yourself.
---
Follow Susan K. Hamilton on Twitter, Instagram, Facebook, and Goodreads. Be sure to add her book, Shadow King to your list! More of Hamilton's work can be found at her Amazon Author Page.